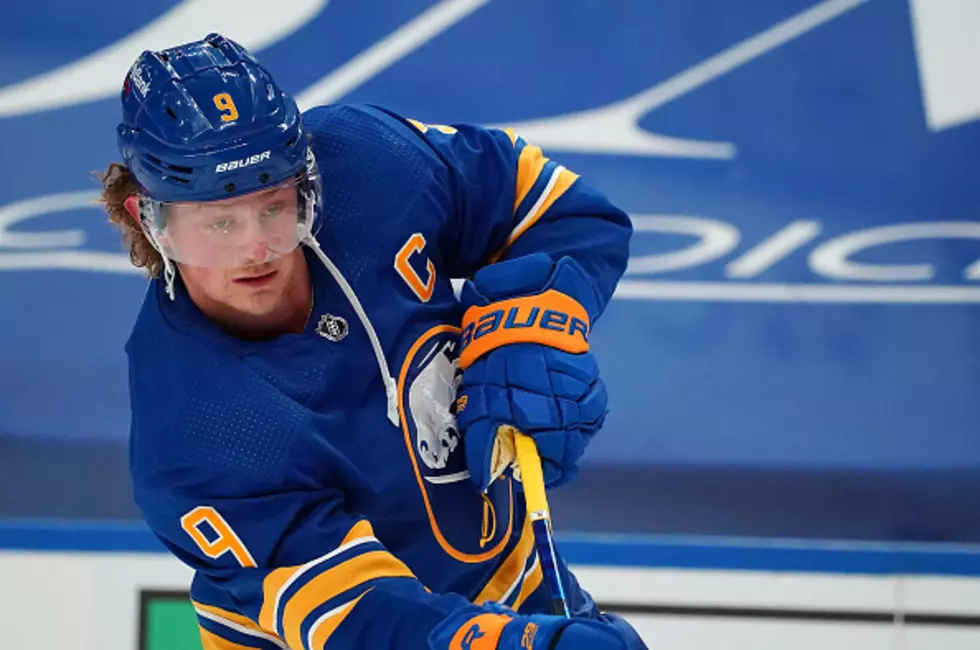 Jack Eichel Officially Has Been Traded + Dramatic Saga Is Over
Getty Images
Jack Eichel Has Been Traded? Who Did The Sabres Trade For?
Jack Eichel Has Been Traded? Who Did The Sabres Trade For? Who did the Sabres get for Jack Eichel?
Jack Eichel is officially no longer a Buffalo Sabre. Who has Jack Eichel been traded to? Where is Jack Eichel going?
Jack Eichel has been traded to the Las Vegas Golden Knights. Absolutely no salary has been retained by the Sabres.
Who did the Buffalo Sabres receive in the trade for Jack Eichel? Seems like this is a good deal for the Sabers, and getting rid of a player that did not want to be here.
The official trade is:
Golden Knights receive C Jack Eichel and a 2023 3rd-round pick.
Buffalo Sabres get forward Peyton Krebs, forward Alex Tuch, a 2022 1st-round pick and a 2023 3rd-round pick.
Right now, without any contribution from Jack Eichel, the Sabres are 5-3-1 and sit in third in the Atlantic Division behind Florida and Tampa Bay.
It is quite the time to be a fan of the Buffalo Sabres, the Sabres also announced yesterday that they are officially looking for a name for their new DOG. They say the dog will be a new 'mascot' for the Buffalo Sabres. YOu can help the team and submit your vote. The 5 finalist names are Bert, Rick, Audie, Punch and Puck.
Bert is after Gilbert Perreault, the Sabres all-time leading goal scorer.
Rick is for Sabres play-by-play announcer Rick Jeanneret, who is in his last season in his career.
Audie, you may think or wonder if it was for former Buffalo Sabres player Donald Audette, but it is not. The nod is to the former arena 'The Aud'.
Punch is for Hall of Fame Sabres coach and general manager George "Punch" Imlach.
And puck? Well, it is the obvious reason, too.
Peyton Kid Changed His Jersey From 'Manning' To 'J. Allen'
Marshall Manning....he has 'J. Allen' on the back of his!
This $2.2 Million Home For Sale In Orchard Park Will Blow You Away
$5 Million Dollar House For Sale Can Be Seen From Niagara River
Got a couple of million bucks laying around? Check out this 5+ million dollar home that is on the bank of the Niagara River.