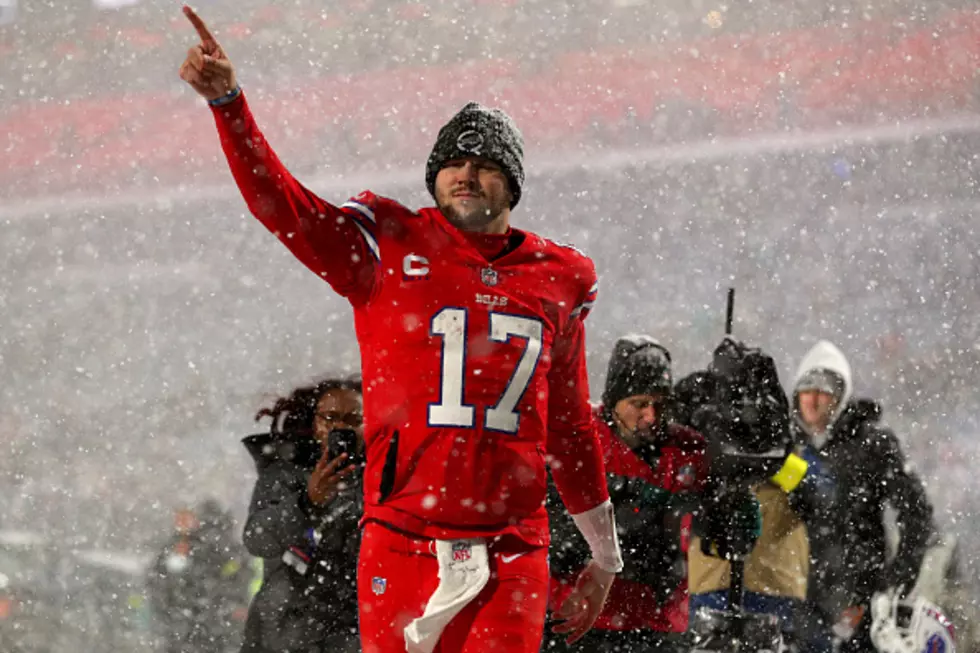 Josh Allen Tells Dolphins Fans to "Go Home" in the Snow [VIDEO]
Getty Images
The Buffalo Bills have officially clinched a playoff spot for the fourth straight season.
Buffalo beat the Miami Dolphins 32-29 at Highmark Stadium on Saturday night, which not only clinched a playoff spot for the Bills, but essentially clinches the AFC East. The Bills have a 99 percent chance now to win the division, with three weeks remaining.
The difference in this game was Josh Allen.
The Bills had some good moments on defense, mainly the pass defense, but they had a hard time defending the run game and Dolphins quarterback Tua Tagovailoa made plays to put Miami ahead in the third quarter, which was a disaster for the Bills.
Allen threw for four touchdowns in the win, including the last one to tight end Dawson Knox to make it 29-27 and then the two-point conversion, which was originally ruled no good, but overturned.
Allen spoke with The NFL Network after the game and in the lake effect snow, yelled at a few Dolphins fans to "go home."
Courtesy of Ryan Talbot of New York Upstate dot com.
The Dolphins are a good team. Mike McDaniel comes from the Kyle Shanahan school of X's and O's, so he can scheme with the best of them. Miami's secondary let them down tonight but outside of that, they played a good game...they just got beat by a franchise quarterback, who put the team on his back.
The snow did not show up until the last 10 minutes of the 4th quarter, but it sure looked great at the end of the game.
The Bills will have a Sunday off before preparing for the Chicago Bears on Christmas Eve. That game will be on the road next Saturday at 1 pm.
After that, the Bills will travel to Cincinnati to play the Bengals on Monday Night Football, before coming home to finish out the season against the New England Patriots at Highmark Stadium.
The Bills have not technically clinched a playoff spot, but have a 99 percent chance to win the AFC East. That means they are all but assured to host at least one playoff game in Orchard Park.
Buffalonians Would Hate To See Josh Allen Endorse These Companies
Amazing Shirts Any Bills Fan Will Love As A Gift
Whatever your style - classic, retro, funny, or chic - these shirts that you can get on Etsy are way better than the basic Bills merch in the team store.
The Best 50 Ice Cream Places in Western New York
The warm weather means ice cream season is just about here.