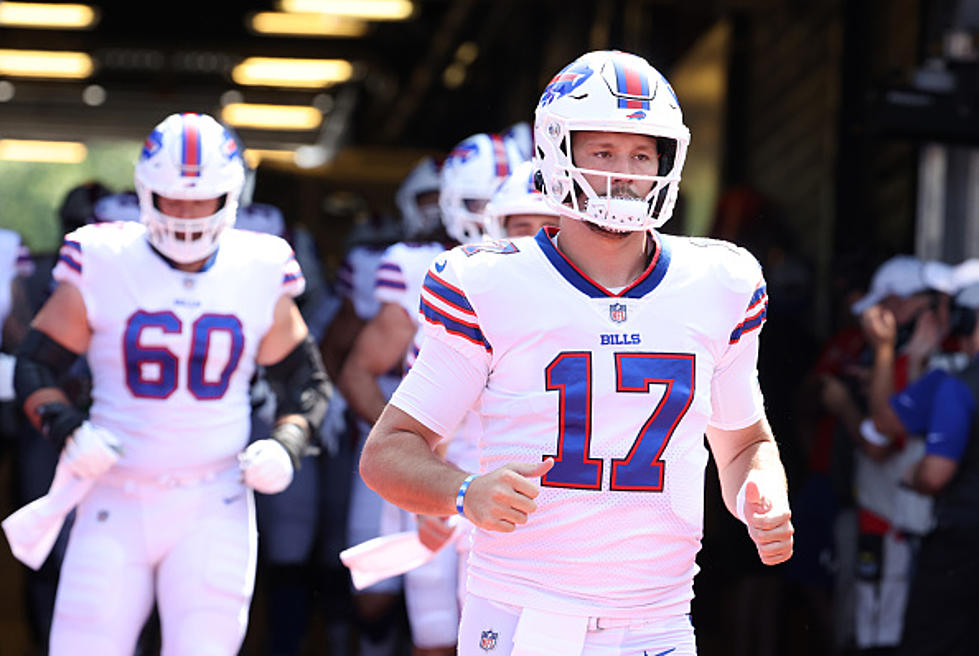 Josh Allen Touchdown Throw Goes Viral: Bills Fans Chant "MVP" [VIDEO]
Getty Images
The Buffalo Bills played their final preseason game of 2021 against the Green Bay Packers at Highmark Stadium on Saturday afternoon and it was a picture-perfect day for Bills Mafia who went out to the stadium, albeit, a bit on the hot and humid side.
Josh Allen and the majority of the Bills starters played in the game and the first offensive drive of the game couldn't have possibly gone any better for the Bills offense.
Allen went 10 for 11 on the opening series, for 90 yards and a 31-yard touchdown strike to second-year wide receiver Gabriel Davis.
To say this throw was great is probably an understatement. It was an absolute laser.
This angle is even better and shows how fast this ball was going.
After the touchdown pass to Davis, fans at Highmark Stadium chanted "MVP" for Allen as the offense ran off the field and it should be noted that this is the first time since the end of the 2019 season that Highmark Stadium was near full for a game.
Allen looked sharp in his time under center. 100 percent in control and what was also impressive was knowing when to throw the ball away and not put his body in harm's way, which is something Brian Daboll and Ken Dorsey have been needing Allen to do more of.
He finished 20 of 26 for 194 yards and two touchdowns. Not a bad first half at all.
Only two weeks away from the start of the Bills regular season opener against the Pittsburgh Steelers at Highmark Stadium in Orchard Park.
Million Dollar Western New York Home Come With Private Island
You could own your own private island right here in Western New York. Currently listed on Zillow.com, this 5 bedroom, 5 bathroom home is amazing and has everything that you could want in a home.
The Top 40 Pizza Places in Western New York
The best pizza spots in Buffalo!
How Many in America: From Guns to Ghost Towns
Can you take a guess as to how many public schools are in the U.S.? Do you have any clue as to how many billionaires might be residing there? Read on to find out—and learn a thing or two about each of these selection's cultural significance and legacy along the way.