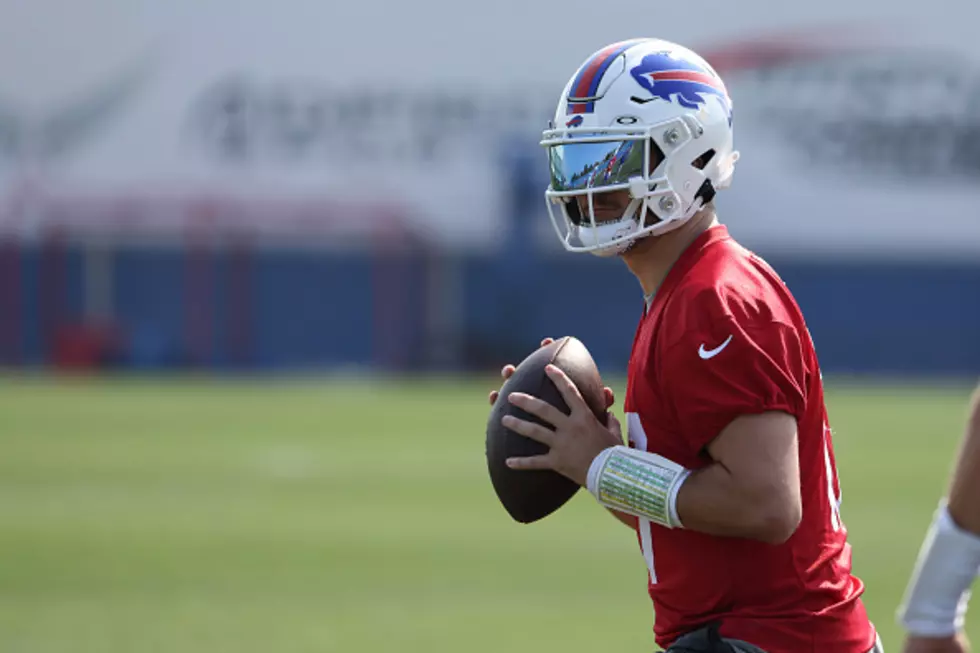 Josh Allen Throw at Practice This Week Goes Viral [VIDEO]
Getty Images
The Buffalo Bills are conducting organized team activities this week at One Bills Drive in Orchard Park.
Wednesday is an off day for the Bills. They're back at it for Thursday, and then again next week for three days. Two more OTA's will happen in early June. After that, mandatory minicamp will be held from June 14-16, before they break until training camp at St. John Fisher in late July.
Bills fans got a chance to see the likes of Von Miller (edge), Tim Settle (DT) and Jamison Crowder in a Buffalo uniform this week, as well as Josh Allen under center once again.
Allen was wearing his famous tinted visor for Tuesday's practice, which honestly, makes him look sharp on the field (as if he wasn't already).
Speaking of sharp, the Bills tweeted out one incredible throw that Josh made to wide receiver Gabriel Davis during drills.
Allen was on the run when he fired a laser to Davis in stride. Bills Mafia loved it on social media.
I love how hyped up Josh got, too. This team clearly has fun on the field and while expectations are very high this fall (the Bills are the Super Bowl favorites), it's important to stay loose and have fun while playing. That endorses confidence, which is critical when playing football at such a high level.
We'll see of Allen and company have anymore amazing plays up their sleeve for Thursday's practice in Orchard Park.
Predicting How Many Wins For The Buffalo Bills
The Buffalo Bills schedule has been officially released and how is the perfect time to predict how well the team will do this upcoming season.
Buffalo Shares Their Favorite Memories Of The Aud
CHECK IT OUT: 100 sports records and the stories behind them