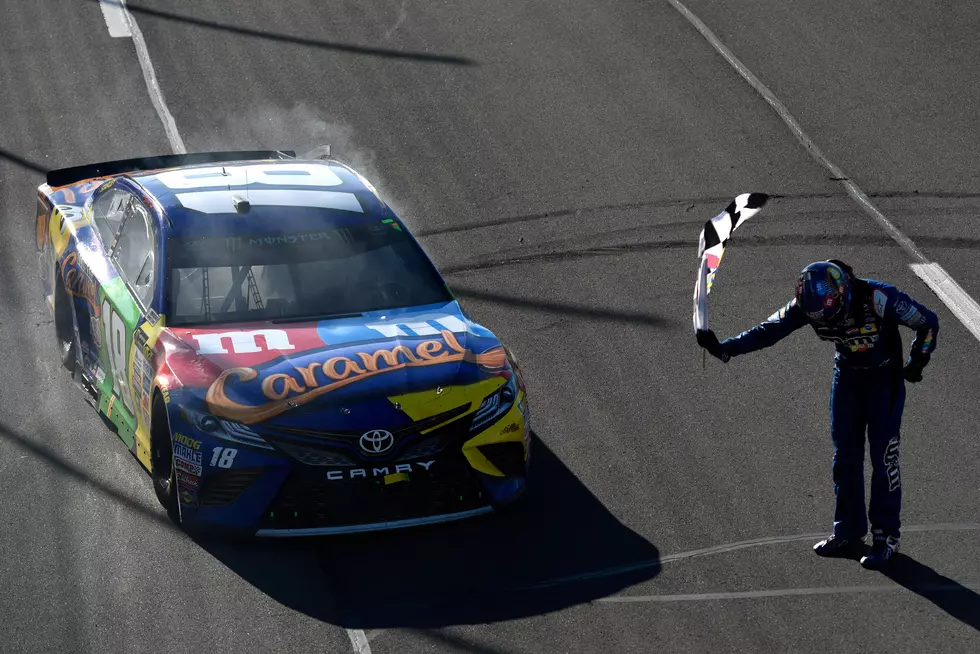 Kyle Busch Finally Wins One At Pocono
Kyle Busch celebrates after winning his first race of the year at Pocono (Getty Images)
It had been more than a year since he won a race despite often having the fastest car on the track.  He had led more than 1,100 laps this season without a victory.  No driver had been more snake-bitten than Kyle Busch, but finally Sunday at Pocono he not only had a fast car, but he got a lucky break when Kevin Harvick got loose and Busch took the lead with 16 laps left and held on for the checkered flag.
The victory is the 39th of Busch's career and his first at Pocono.  He now has won a points race at every track except for Charlotte Motor Speedway.  It's also the 100th Cup victory for Toyota.
Kevin Harvick finished second, more than four seconds back.  Completing the Top 5 were Martin Truex, Jr., Denny Hamlin and Brad Keselowski.
It didn't take long for the first caution flag to fly.  It happened on the first lap when Matt Kenseth spun in Turn 3 creating a wreck involving eight cars.  The cars of Aric Almirora and Matt DiBenedetto had to go off for repairs.
Five races are left in the Monster Energy Cup schedule.  Next week the series moves on to the season's second road course race at Watkins Glen.