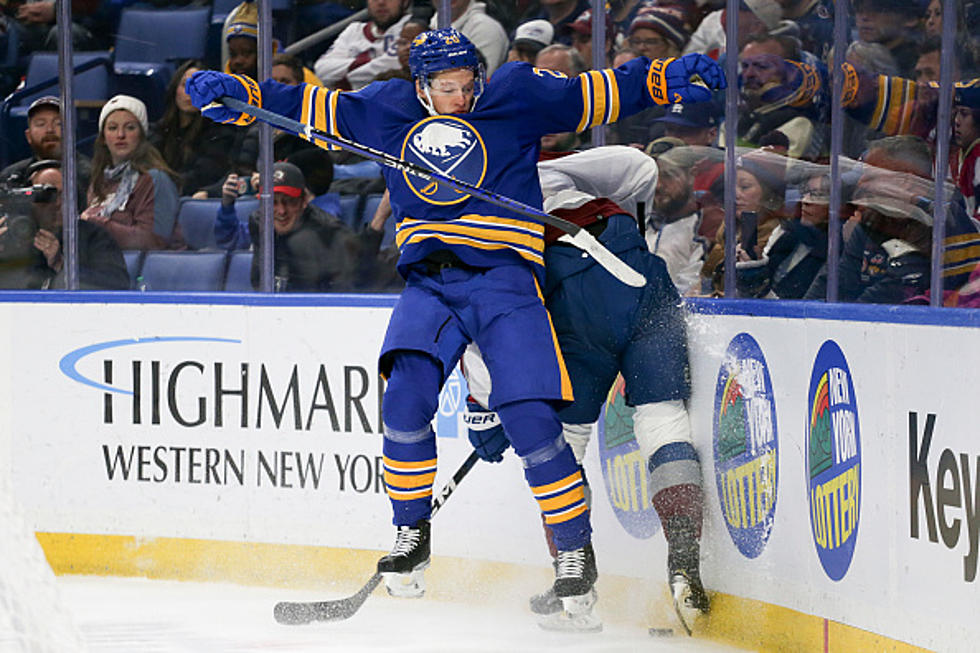 Player Decides to Leave the Buffalo Sabres to Sign Overseas
Getty Images
It's a pretty brutal Stanley Cup Final for Buffalo Sabres fans.
Former Sabres captain Jack Eichel is playing against former Sabres center Sam Reinhart, as the Vegas Golden Knights lead the Florida Panther two games to none. The series heads to Sunrise, Florida for games three and four.
As for the current Sabres, there's a ton of optimism surrounding them right now. They missed the playoffs by two points and had their best season since the 2010-2011 campaign, which is the last time they made the postseason.
The Sabres farm club also had a great season, as the Rochester Americans made the conference final for the first time since 2004. One of the players on that Amerks for that run was defenseman Lawrence Pilut.
Pilut first signed with Buffalo in 2018. The Swedish-born defenseman had an American father, Larry Pilut, who spent the majority of his professional hockey career in Sweden.
Pilut bounced from Rochester to Buffalo, before he decided to leave the Sabres as a restricted free agent and sign in the KHL.
In 2022, he returned to the Sabres organization on a one-year contract. His contract was not set to expire until July but Pilut has already decided to continue his career overseas, once again.
Pilut has reportedly decided to sign a professional contract in Switzerland.
Pilut was a sought-after free agent in 2018. It's a disappointment that his NHL career never panned out for Buffalo. This departure was more likely, given his unrestricted free agency this summer, but it's sad he has has left the organization again.
6 Best Trades in Buffalo Sabres History
Taking a look at the absolute best trades in Buffalo Sabres history.
Top 10 Most Underrated Buffalo Sabres of All-Time
22 Famous Buffalo Sports Phrases Every Die-Hard Bills and Sabres Fan Knows
Being a sports fan in Buffalo is sometimes like knowing a different language. Here are 22 of our favorite Buffalo sports phrases you already know if you're a huge fan! And if you're new here, here's how to catch up.