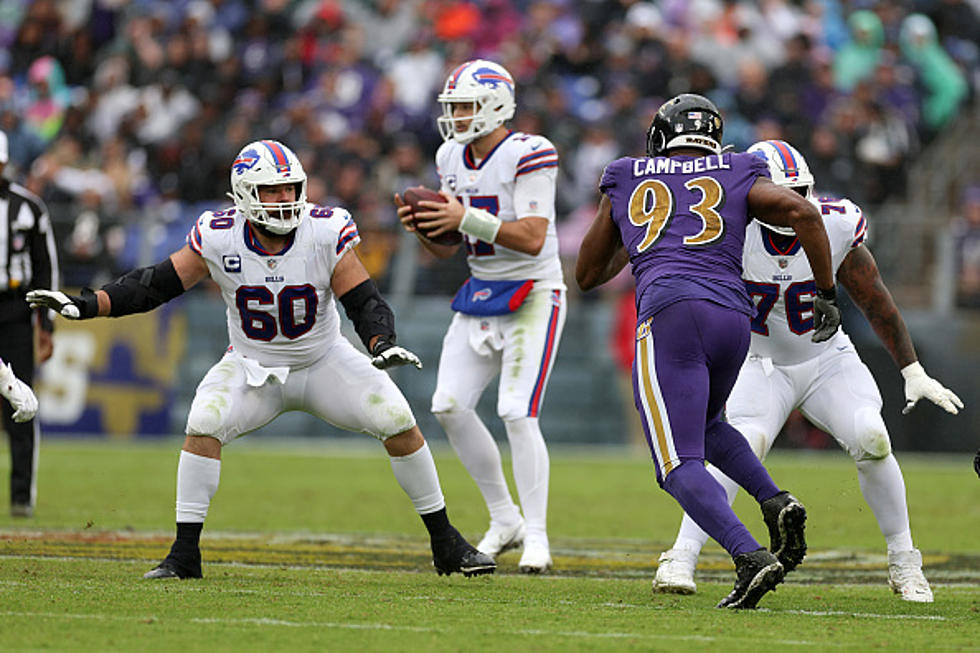 Buffalo Bills Player Absolutely Hates a New NFL Rule
Getty Images
The NFL owners meetings are happening this week in Arizona, which is always a time for front-office personnel and head coaches to meet with the media and update fans on new rules or changes happening within the league.
One of the biggest was the announcement that there would be one cutdown day during the NFL preseason. Teams now will cut from 90 to 53 players in one sitting, which will happen on August 29th this year.
Another rule approval was the ability for players to wear the number zero,  other than offensive and defensive linemen.
However, one change is not sitting well with a mainstay on the Buffalo Bills offense.
The NFL announced that teams could now play two games on Thursday Night Football. Before 2023, all teams played once during the season on Thursday night. There will not be flexed scheduling with the Thursday night games, however.
Bills center Mitch Morse hates the new rule and had one simple emoji to express his displeasure.
Thursday games are difficult on players. Many times they have played the previous Sunday, which means less rest, and the quality of games are notoriously bad as well; which is something fans have complained about for years.
The problem is the NFL makes an absurd amount of money. Thursday Night Football makes the league even more money because of advertising on TV and radio. The league of course wants to make money, above all else. Teams having to potentially play two games on Thursday night will not make players happy, however.
8 Reasons 1pm Games Are Better For The Buffalo Bills
15 Things You Should Never Do at a Bills Home Game
Things that are a no-no to do at a Buffalo Bills home game.
22 Famous Buffalo Sports Phrases Every Die-Hard Bills and Sabres Fan Knows
Being a sports fan in Buffalo is sometimes like knowing a different language. Here are 22 of our favorite Buffalo sports phrases you already know if you're a huge fan! And if you're new here, here's how to catch up.