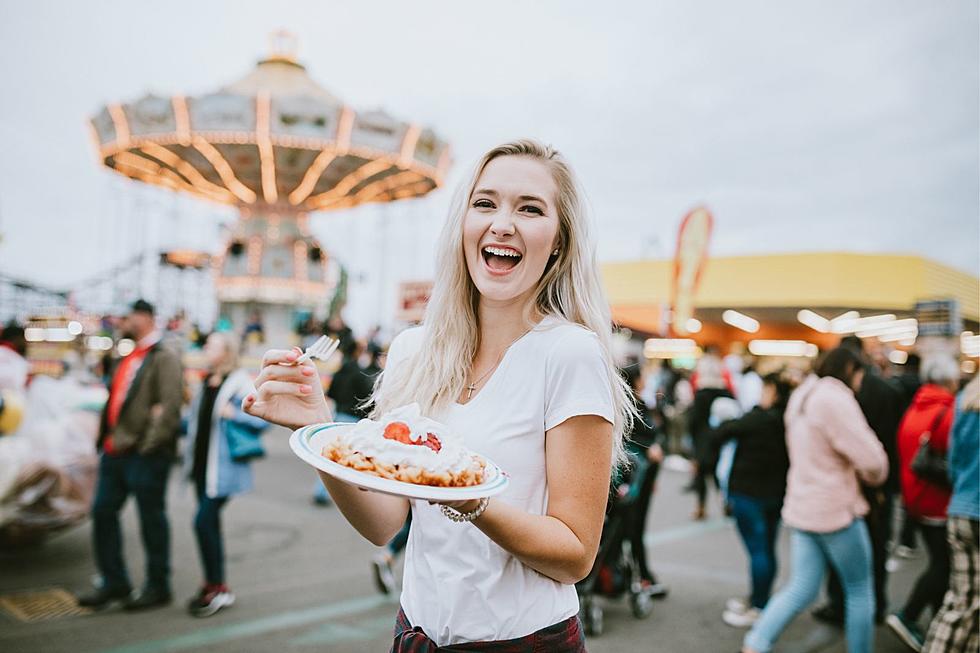 Brand New Foods To Try At The Erie County Fair In 2023
(Canva)
People go to the fair for a variety of reasons.  Some go for the animals, the rides, or the vendors.  But if it's the food you're excited about, you're in luck this year.
You can almost smell it now, can't you?  The incredible aromas coming from the food at the Erie County Fair make it an experience on its own.  The Erie County Fair released a full list of new foods that they will be featuring this year and it all looks incredible.
For pictures of all these foods, click here.  But let's get right to it.  Here are some of the foods (other than your every year favorites) that you can look forward to this year at the Erie County Fair (The name in parenthesis is where you will find each item):
Savory New Foods At The Erie County Fair
Asian Fusion Pierogi - Ground pork, shredded cabbage, carrots & Asian seasonings. Served with Asian dumpling sauce & sweet & sour sauce. (Babcia's Pierogi)
Fried Bologna & Cheese Fries - French fries covered in cheese and full of fried bologna. (Chester's Gators and Taters)
The Chicken Coop Loaded Potato - Potatoes topped with chopped Dirty Bird hand battered tenders, cheese, bacon, boom boom sauce, and ranch. (Dirty Bird Chicken and Waffles)
Tropical Wonton - A simple pastry made with fresh tropical fruits in a tangy, delightful mixture of cream cheese served with a sweet refreshing dip. (Eastern Pearl)
The Boss - Capicola & Provolone Stuffed Link topped with onions, peppers and our Five Cheese Hot Pepper Sauce on a Costanzo roll. (Mineo & Sapio's)
Poutine Baked Potato - Baked potato topped with cheese curds, brown gravy, and chives! (Oberst Concessions)
Whistle Pig Pizza - Pizza with hot dogs, bacon, cheese sauce, onions, and mozzarella cheese. Topped with a chili sauce. (Pizza Amore "The Wood Fire Way")
Fried Spaghetti - This fried spaghetti is the ultimate fried pasta dish. It has crispy yet tender noodles, a flavorful homemade tomato sauce, and topped with romano cheese. (Salvatores Pizza)
Greek Pizza - Not an entirely traditional Pizza. Topped with feta, spinach, roasted bell peppers and olives for a colorful meal. (Salvatores Pizza)
Super Fruit Bowl - A refreshing blend of fresh and cool Acai or Dragon fruit. Drizzled, topped, or sprinkled with your choice of crunchy honey granola, ripe blueberries, strawberries, or bananas coated in honey or rich, delicious Nutella. (Brazilian Bowl)
Gluten Free Chili Cheese Corn Dog - All beef hot dog dipped in gluten-free batter and fried until golden brown. Topped with chili, cheddar cheese sauce, and pickled red onions. (The Silly Yak)
Hawawshi - Seasoned ground beef baked in a Pita (Venus)
Fair Ribbean Corn - Jamaican jerk aioli topped with mango salsa and coconut crème drizzle. (Crafted Cobb)
"K" Dogs (Korean Corn Dogs) - All-beef hot dog and mozzarella cheese dipped in batter, fried, and then rolled in a choice of toppings. Toppings include Takis Mexican chips, fried potato cubes or Hot Cheeto dust. (The Strates Shows Midway)
Caramel Apple In A Cup - Sour apple slush drink mixed with caramel apple drizzle, caramel apple candies, whipped cream, and apple slices (Moose Joose Slush)
Desserts and Drinks
Gluten Free Deep Fried Apple Pie - Apple pie filling dipped in batter, and deep fried. Rolled in cinnamon & sugar and dusted with powdered sugar. (The Silly Yak)
S'More & More - Toasted marshmallows, blended with cream cheese, Oreo cookies, mini chocolate chips, Graham cracker crumbs, peanut butter, jelly, and bananas. Dipped in Graham cracker crumbs & served with marshmallow & chocolate sauce. (Babcia's Pierogi)
Dragon Berry Boba Tea - A vibrant blend of raspberries, strawberries, and blueberries infused into authentic green tea, featuring delightful popping boba. (Eastern Pearl)
Tie Dye Smoothie - Fresh fruit smoothie featuring 3 fruit flavors: strawberry, frozen lemonade and blue raspberry. (Tropical Smoothie)
Unicorn On The Cob - Corn on the cob with Vanilla cream topped with crunchy fruity pebbles. (Crafted Cobb)
Peanut Butter Cream Donut - A giant glazed doughnut with homemade vanilla pudding and peanut butter crumbles. Topped with whipped cream. (Peachey Baking Company)
Pumpkin Patch With A Twist - Homemade pumpkin ice cream (including New York State maple syrup, marshmallow, and graham crackers) sandwiched between 2 Krispy Kreme doughnuts, dunked in chocolate, then rolled in graham crackers. (Polar Bear Homemade Ice Cream)
Black Raspberry Covered Cashews - Cashews covered in a black raspberry syrup (We R Nuts)
Strawberry Cheesecake Slush - Strawberry slush drink topped with a slice of NY cheesecake drizzled with strawberry toppings and whipped cream. (Moose Joose Slush)
Tajin Candy Apples - A traditional candy apple rolled in Mexican seasoning Tajin (pronounced "Tah-heen"). Tajin adds a spicy makeover the carnival classic. It is a simple seasoning mix of dried and ground red chilies, sea salt and dehydrated lime juice. (Located on the Strates Shows Midway)
Frozen Hot Chocolate Dippin Dots Sundae - Vanilla Dippin Dots mixed with chocolate cocoa and mini marshmallows. Topped with whipped cream. (Dippin' Dots)
8 Of The Best "Junk Foods" Made In Buffalo, NY
The Worst 10 Foods To Order On A First Date
These are the worst 10 foods to order on a first date, according to
Mashed
the food magazine.
6 Foods Buffalonians Want To Claim As Their Own
Here are the most popular foods in American that people in Western New York would love to claim for Buffalo and the 716.