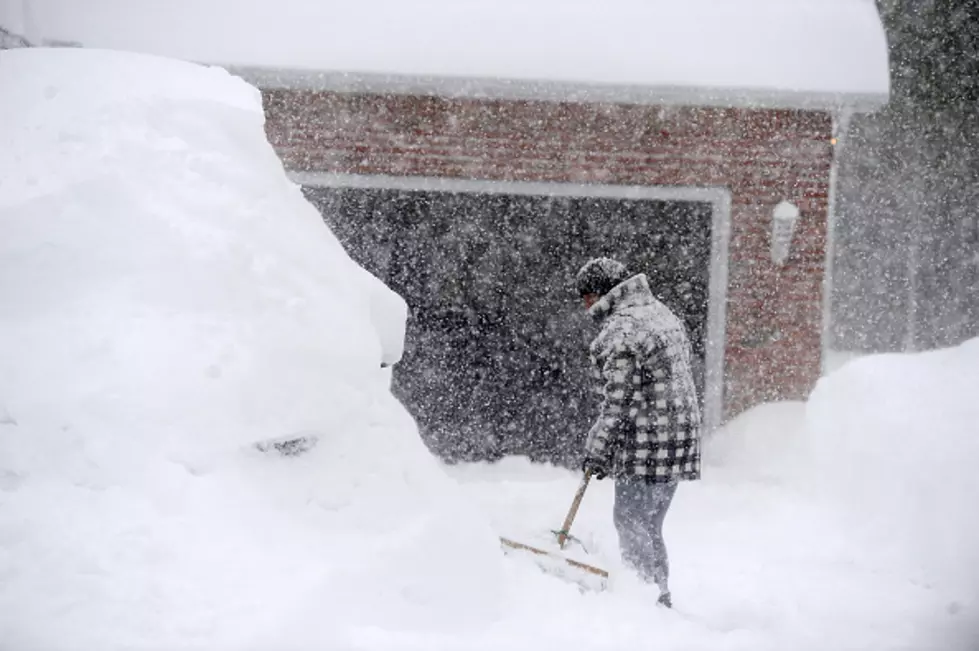 Open Letter to People Making Fun of Buffalo Because of Snowstorm
Getty Images
The intense and historic, lake effect snowstorm is still going strong as it dumps tons of snow on portions of Western New York.
There's still a lake effect snow warning for Erie County until Sunday and we have already seen close to four feet of snow fall in suburbs like Hamburg and Orchard Park.
South Buffalo, Blasdell, West Seneca, Lackawanna, East Aurora and Lancaster have also been hit hard so far by the lake effect snow band, which has barely moved in the last 12-14 hours. Thankfully, this band is projected to lift north of Buffalo tonight and into Saturday, giving those areas a much-needed break.
Check out some of the videos below of the snowstorm and showing just serious this is.
I have seen far too many people on social media, whether it's NFL fans saying this is why the Bills should have built a dome or people who are giving analysis from a distance, who don't live in Western New York and have never been through a lake effect snowstorm...making fun or light of the snow in Buffalo.
I get it, it's social media and that's to be expected. But there's a real sense that people think this is just snow and "what's the big deal?"
There's a huge difference between general snowfall and lake effect snow.
Lake effect snow is wet, heavy and extremely difficult to move. The road conditions are impassable in many spots just south of Buffalo and it's so bad that emergency crews and law enforcement are getting stuck, which are people that need to be out.
Erie County Executive Mark Poloncarz held a news conference on Friday afternoon and shared bleak updates on the snowstorm.
Two deaths have been reported from the lake effect snowstorm, both because of cardiac arrests due to shoveling or snow blowing.
The Erie County Executive also says there was a partial building collapse in Hamburg, because of the snow, which was a problem during November of 2014.
Over 60 inches of snow has fallen in certain spots, in less than 24 hours, which is beyond remarkable.
As far as the Bills go, the Erie County Sheriff and Executive thanked the Buffalo Bills for moving their game, as resources can now be used for the community and not a football game.
It would not have mattered what kind of stadium the Bills played in; outdoor or a dome. Getting there is the problem and keeping resources open is a huge part of moving the game.
Lake effect snow causes whiteout conditions. It causes people to be homebound. It causes residents to lose money because they cannot get to work. It can collapse roofs. It can cause heart attacks. It can lead to hypothermia because of drivers stranded in their vehicles.
We are much more used to this than anyone else in the country, but this proves that even a snowy area in the fall and winter can come to a halt when a lake effect snowstorm is this bad.
This isn't the light and fluffy winter wonderland you see in movies and TV shows. This snow can change lives.
Southtowns Lake Effect Snow Pictures
The Amount Of Forecasted Snow Is Taller Than These Buffalo Bills
The Top 40 Pizza Places in Western New York
The best pizza spots in Buffalo!