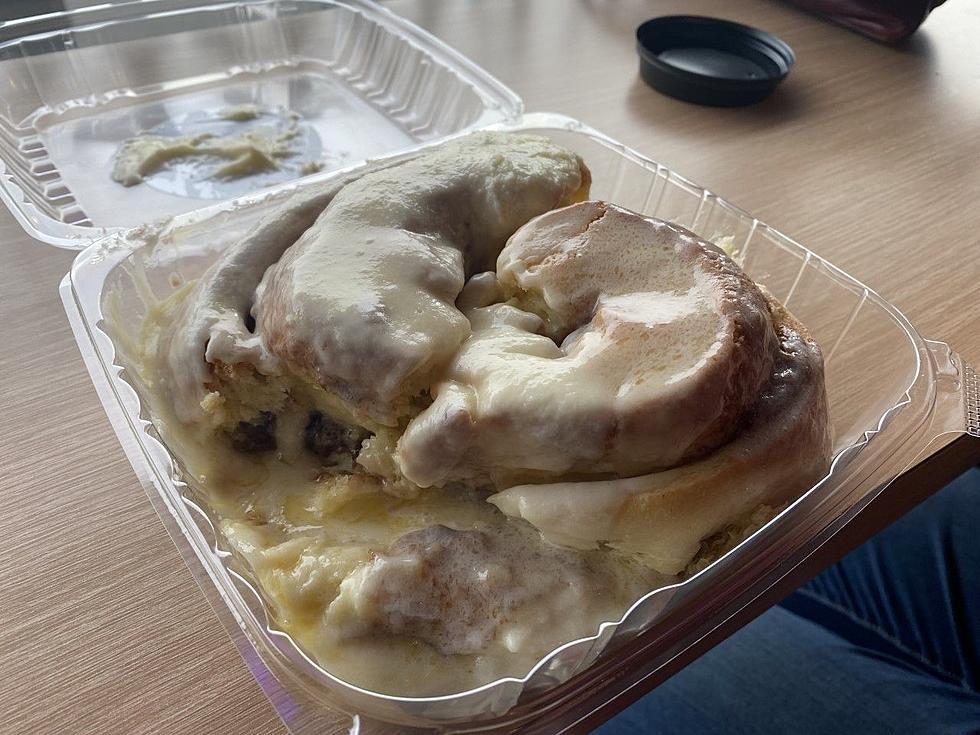 This Massive Cinnamon Roll In Orchard Park Is WNY's Best
(Brett Alan)
If you're looking for an incredible place to sit down and take in all the gooey deliciousness of a cinnamon roll, you have to check out Kaylena's.
Cinnamon rolls are kind of winter's comfort food.  Don't get me wrong, you can eat a cinnamon roll any day of the year, but there's just something about eating one that is drenched in icing with a cup of coffee or cocoa while the snow falls down outside.  If that sounds good to you, I've got a place you HAVE to check out.
It's actually called Kaylena Marie's Artisan Bakery and Cafe in Orchard Park. You'll find them at 3144 Orchard Park Rd #103 in Orchard Park.  They moved from the village of Orchard Park up the street to a bigger location.  Now, they're over by Dao Sushi and up the street from the 5 corners where Taffy's and the Delta Sonic are.
Yes, they've got all kinds of stuff on their menu.  You can check out what the menu looked like the day I went there (it can change as things sell out) below.  They've got breakfast sandwiches and bakery items like cookies and cakes.  Of course they have specialty coffees and drinks.  They have lunch items like soups and sandwiches.  It's all VERY good.  But there's no question that the all-star on their menu is their cinnamon roll.  This thing is huge!
It's soft and delicious and when I say it is covered in icing, I mean it is drenched in it.  While there are some that might think the icing is too much, I love that you never have a bite without icing on it.
It is big enough for two (or more) people to share and still walk away full.  Don't wait to get there if you're planning on trying one.  They can sell out and they're only available on a first-come/first-served basis.
Check them out and prove me wrong.  Does anyone have a better cinnamon roll than Kaylena's?  I don't think it's possible.
This Massive Cinnamon Roll In Orchard Park Is WNY's Best
43 Restaurants That Have Desserts That People Go Nuts Over
8 of the Greatest Places For Pancakes In Hamburg - #7 Is Surprising
7 Buffalo Restaurants That Serve All Day Breakfast