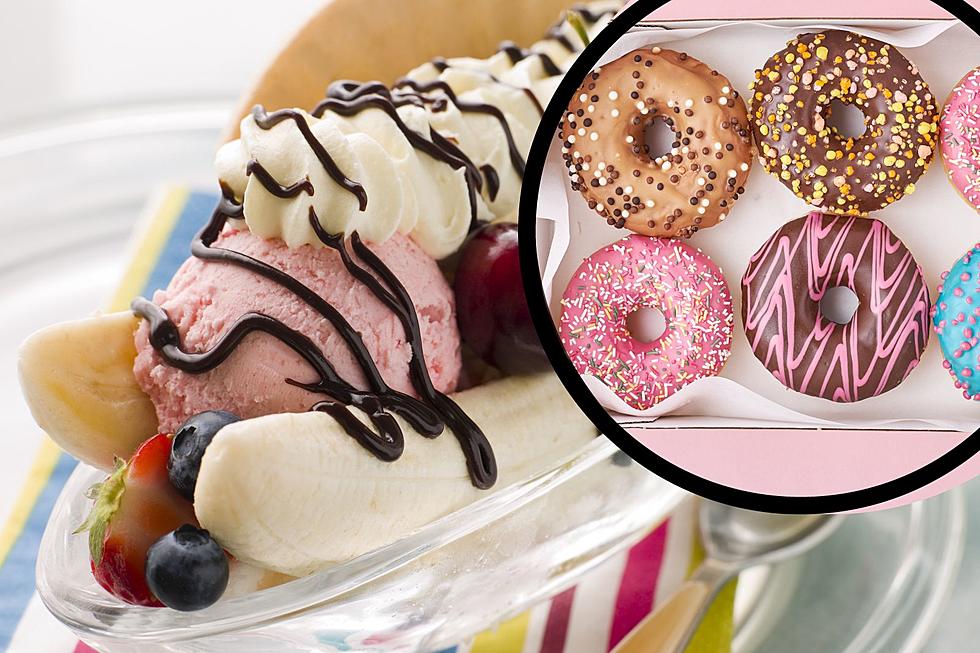 Paula's Donuts Releasing Banana-Split Donut For A Great Cause
(Canva)
There are a bunch of reasons why people feel guilty about eating donuts.  But here is a great reason to get one and you can feel good about it.
Who doesn't love donuts?  They're sweet, they're filling, and if you're looking for something to have for breakfast, they fit the bill.  Now Paula's Donuts is giving you a reason to skip the guilt and check out their new donut for a great cause.
What is Paula's Donuts?
Paula's Donuts has become one of Western New York's most iconic foods.  While it's not quite as popular as wings or beef on weck, Paula's huge donuts have been a must-have for people who live here and other visitors who know about them since 1996.
What is so unique about Paula's Donuts' new donut?
It's a flavor unlike anything you've probably ever had before.  It's a Banana Split Donut.
It's a classic glazed donut with strawberry, banana, and chocolate cream.  It's then drizzled with chocolate and covered in sprinkles & chocolate chips.
Don't feel guilty - it's for a great cause
Yes, it seems like you should feel guilty for eating all that sugar, but hey, it's for a great cause.  This month is Childhood Cancer Awareness Month so they're going to be donating 50% of the sales of the donuts to the Hope Rises Network and their "Shine Gold For The Kids" to support children who are fighting cancer.
What is the Hope Rises Network?
Hope Rises was founded in 2017 by Kate Glaser.  They not only spread good news stories from all over the globe, but they make some here in Western New York too.  They make an effort to give back in just about every way possible and have raised over $250,000 to support charities across Western New York in that small amount of time.  And in their words they're "not giving up any time soon!"
If you'd like to get a Banana Split Donut from Paula's, they're only going to be available until September 30th!
Mount Rushmore of Breakfast Places in Buffalo
The four cornerstones of breakfast restaurants in Buffalo and Western New York.
10 Places For The Best Breakfast Sandwiches In Western New York
Top 22 Coffee Shops in Western New York
These are the top 22 coffee shops in Western New York that are perfect for meeting a friend, studying for a test, or getting caught up on some office work.