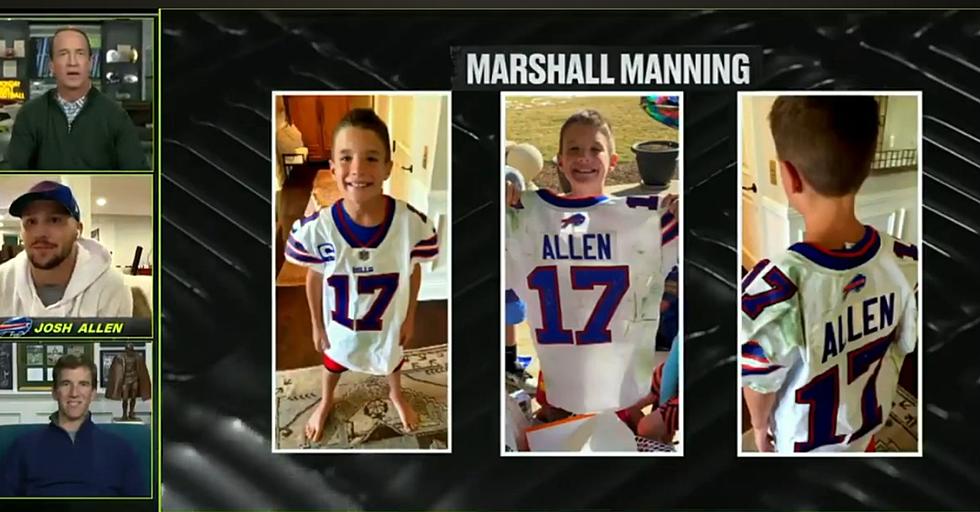 Peyton Kid Changed His Jersey From 'Manning' To 'J. Allen'
Instagram/ESPN2
Ya love to see it.
You really do.
Josh Allen was a guest last night on the Monday Night Football broadcast on ESPN2. We already knew that both of Peyton Manning's kids are MASSIVE Josh Allen fans so, he got them some Buffalo Bills Allen jerseys--both his twins, daughter Mosley and son Marshall.
Peyton coaches his kid's flag football team and their team is 'The Buffalo Bills'. But, the best part is: every kid has their last name on the back of their jersey....except for 10-year-old Marshall Manning....he has 'J. Allen' on the back of his! 
Peyton brings it up to Josh and he really doesn't know what to say except for "was he throwing to any Stefon Diggs or Cole Beasley's?, I don't know what to tell you there".
Peyton Manning and his brother, Eli Manning have been doing the play-by-play announcing for some prime-time National Football League games this year, including last night's Kansas City Chiefs and New York Giants. They had several guests, per usual, throughout the night, but last night included Jon Stewart, Michael Strahan, and......our own, Josh Allen.
Peyton Manning was on the Kelly Clarkson show a few weeks back where he talked about the Buffalo Bills. Peyton Manning's daughter doesn't really rock dad's jersey. She has a different favorite.....and everyone in Western New York will love to see it. Peyton Manning said that his 10-year-old daughter, Mosley loves to rock out her Buffalo Bills Jersey. More specifically, her #14 Stefon Diggs Buffalo Bills jersey.
Peyton Kid Changed His Jersey From 'Manning' To 'J. Allen'
Marshall Manning....he has 'J. Allen' on the back of his!
This $2.2 Million Home For Sale In Orchard Park Will Blow You Away
$5 Million Dollar House For Sale Can Be Seen From Niagara River
Got a couple of million bucks laying around? Check out this 5+ million dollar home that is on the bank of the Niagara River.