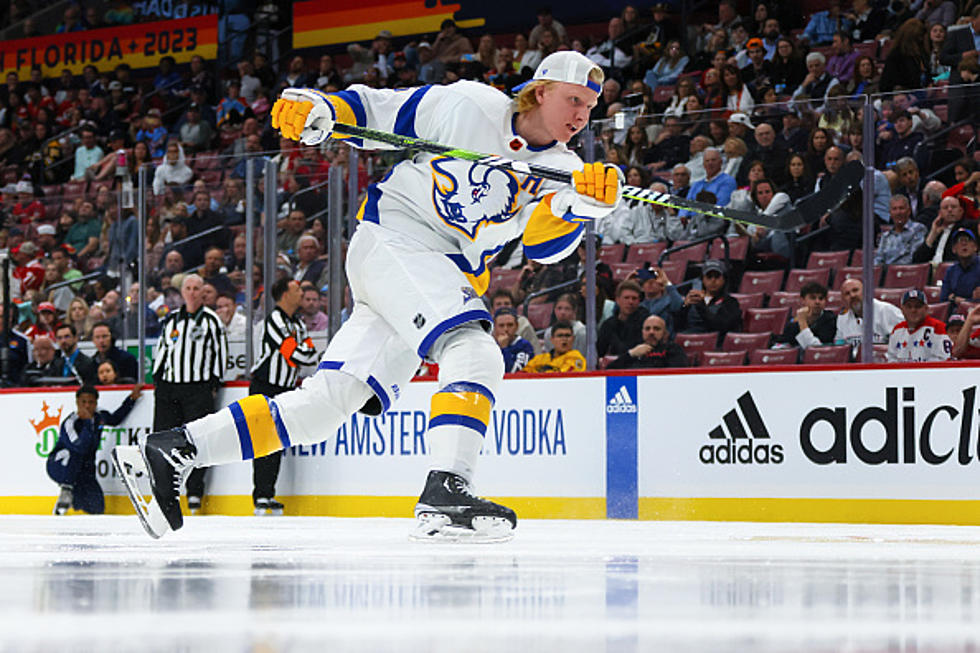 Sabres Almost Went With These Reverse Retro Jerseys?
Getty Images
The Buffalo Sabres had one of their toughest losses of the season on Tuesday night, dropping their game against the Columbus Blue Jackets at KeyBank Center.
The Sabres are fighting for a playoff spot in the Eastern Conference and now have less room for error in the last six weeks of the season. The Blue Jackets might be the worst team in the league and it's a game you cannot lose at home.
What's even more fascinating is the Sabres have been better on the road than at home this season; and they have been better in their black and red "goathead" throwback jerseys this season than their standard blue home jerseys. It feels as if the players feed off the energy of the crowd more when they wear the black and red.
The Sabres also have their reverse retro jerseys, which feature the goathead on a white jersey, with blue and gold colors.
Those are the second reverse retro jerseys the Sabres have worn but did the team almost select another reverse retro jersey?
Ali Murji, who has tweeted before about rejected reverse retro jerseys, says these retro jerseys were in consideration by the Sabres but they ultimately went the direction they went, because these were too similar to the black and red alternate color scheme.
I love these more than the blue and gold goathead reverse retro they wear now. I hope this is where the Sabres go for the next reverse retro jerseys, which should be in two years.
Buffalo Sabres Goalie Masks
Take a look at some amazing Goalie Masks in Buffalo Sabres history.
Top 10 Most Underrated Buffalo Sabres of All-Time
22 Famous Buffalo Sports Phrases Every Die-Hard Bills and Sabres Fan Knows
Being a sports fan in Buffalo is sometimes like knowing a different language. Here are 22 of our favorite Buffalo sports phrases you already know if you're a huge fan! And if you're new here, here's how to catch up.