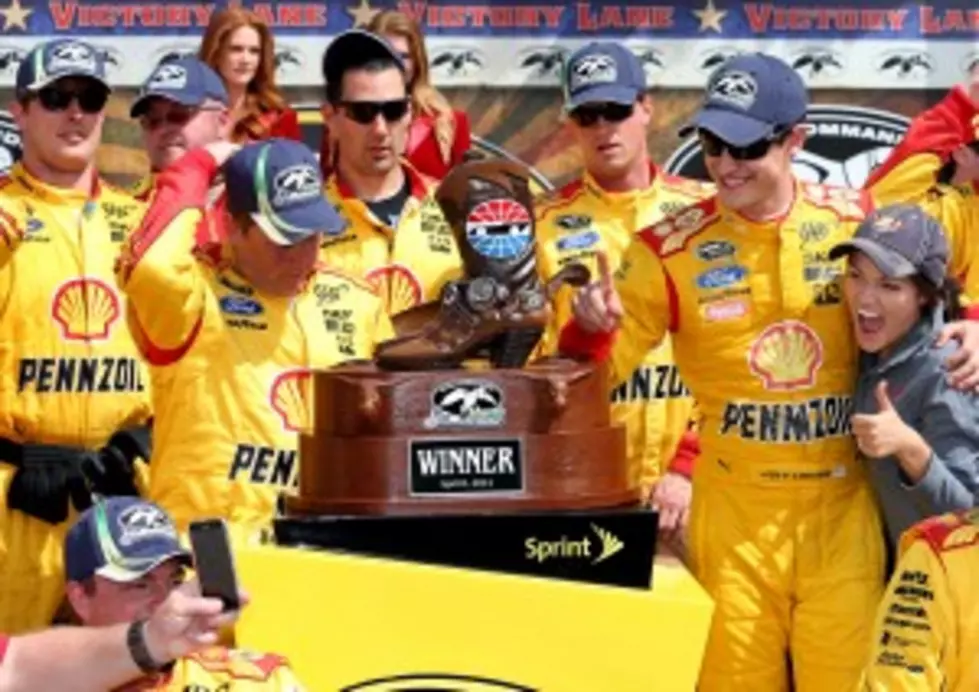 Seven Races, Seven Sprint Cup Winners
Joey Logano and his team celebrate their victory at Texas Motor Speedway (Getty Images)
Seven races and seven different winners so far in the Sprint Cup season.  Joey Logano looked like he'd easily win the rain-delayed Duck Commander 500 at Texas Motor Speedway until Kurt Busch shredded a tire on the second-last lap forcing the seventh caution of the day.  It set up a green-white-checkered finish and big decision for all of the leaders.  Some took on two tires, some took four. 
Logano took four tires and it put him in third place behind Jeff Gordon and Brian Vickers who took two tires.  It paid off for Logano when he passed Gordon on the final lap for his fourth career victory.
Gordon came in second with Kyle Busch placing third and Vickers fourth.  And once again rookie Kyle Larson was a contender finishing fifth for his third Top-10 finish in seven races and his second Top-5.
The season first two winners, Dale Earnhardt, Jr. and Kevin Harvick were the first two drivers out of the race.  Earnhardt misjudged the edge of the pavement and tore up his car in the infield grass, then slammed into the outside wall.  Harvick's day ended when his engine blew up.
Gordon's second-place finish was good enough to move him up three spots into first place in the season point standings, four up on Matt Kenseth and seven ahead of Carl Edwards.
Next up is Darlington Speedway under the lights on Saturday night.