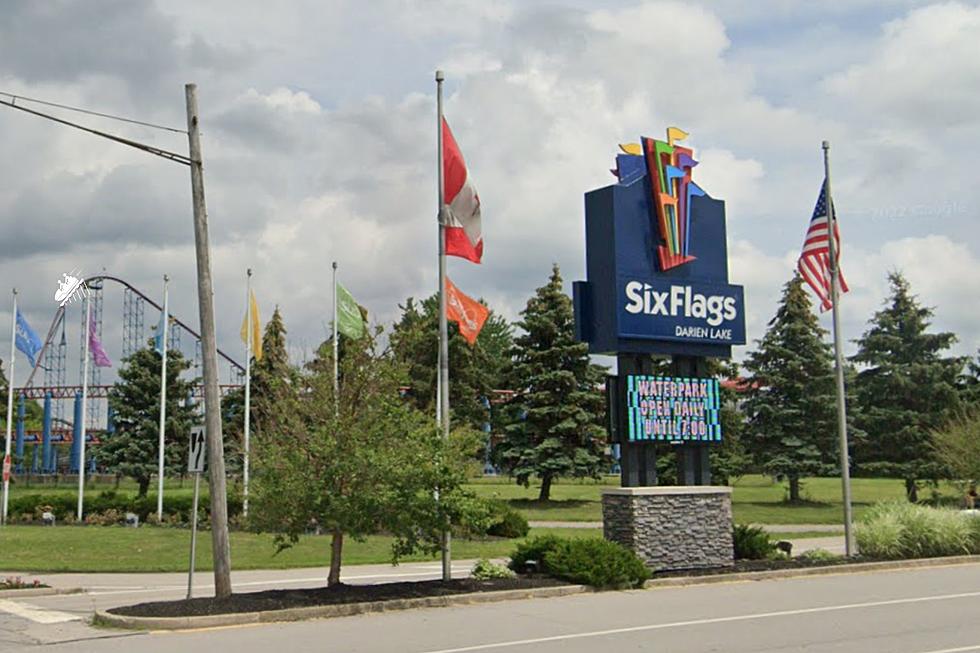 Six Flags Darien Lake Is The Best Theme Park In New York
Google Maps, Canva
Darien Lake has been a destination for thrill rides and concerts for over 40 years and was just rated the best Theme park in New York State AND one of the best in North America. Do you agree?
Theme Parks in New York State
Despite the weather getting very cold during winter, New York State is home to many amusement and theme parks. There are over 40 if you count water parks and fun centers. Fun Centers are often more like giant playgrounds but still fit the category. Some notable large theme parks in New York are Legoland, Six Flags Darien Lake, Six Flags Great Escape, Adventureland, Luna Park in Coney Island, Roseland Waterpark, Seabreeze, and so many more. Every region of the State has one that isn't terribly far away.
Six Flags Darien Lake Rated One of the Best in North America
HomeToGo.com released its Theme Park Index for 2023. They considered things like affordability, as well as the number of rides and attractions.  They looked at parks all across the United States and Canada, with the Top Spot going to Cedar Point in Ohio, followed by Canada's Wonderland and Hersheypark. Places like Disney World and Universal Studios also made the list but were a long way down it. In fact, the highest-rated Disney Park was the Magic Kingdom at #16. Universal Studios was ranked #34.
The number 5 overall top theme park in North America is Six Flags Darien Lake. It was also rated the most affordable theme park in North America, with a total single-person cost of $86.53 for entry, parking, and nearby accommodations. This was the highest rated theme park in all of New York State as well.
About Six Flags Darien Lake
Six Flags Darien Lake has been a few different things since it opened in 1981. It has been called Darien Lake Fun Country, Darien Lake, Six Flags Darien Lake, and Darien Lake Theme Park Resort. It lost the name Six Flags before being named Darien Lake Theme Park Resort, then went back to being Six Flags in 2018. The park has are 8 roller coasters (1 for kids), a water park, campgrounds, a hotel, and an amphitheater that hosts major concerts. It also hosts the annual Fright Fest for Halloween.
Is Six Flags Darien Lake Really One of the Best in North America?
While some locals may be surprised, the reality is that you get a lot of entertainment for, at least today and compared to others, a bargain. Many theme parks cost hundreds of dollars to visit for one day. Darien Lake, while not cheap, is a much better value with excellent rides and attractions for the entire family compared to other parks around the country. You could easily spend a long weekend, or even a full week, at the park trying to ride and see everything it has to offer. The concerts it brings in are also excellent, as they are a Live Nation venue. This summer alone Luke Bryan, Fallout Boy, Post Malone, 50 Cent, Niall Horan, and many other major acts are scheduled to play.
Get the Season Pass
If you plan on going more than once to Darien Lake, it's absolutely worth getting a season pass of any variety. For $7.99 a Month or $64.99 right now, you get a Gold Pass with a Platinum upgrade. That included parking, unlimited visits, 15% off food and merch, plus more.
Other Theme Parks That Are Rated HIghly in New York and Nearby
Canada's Wonderland is near Toronto, ON, and is rated the 2nd best park in North America. Hersheypark, in Hershey, PA ranks 3rd. Cedar Point in OH is rated #1 and is not terribly far for New Yorkers to drive. Also making the top 20 are Six Flags Great Adventure in New Jersey, and Six Flags Great Escapes near Glenn Falls, NY.
Six Flags Darien Lake Roller Coaster Power Rankings
[carbongallery id="606b73abf97df511cea9c