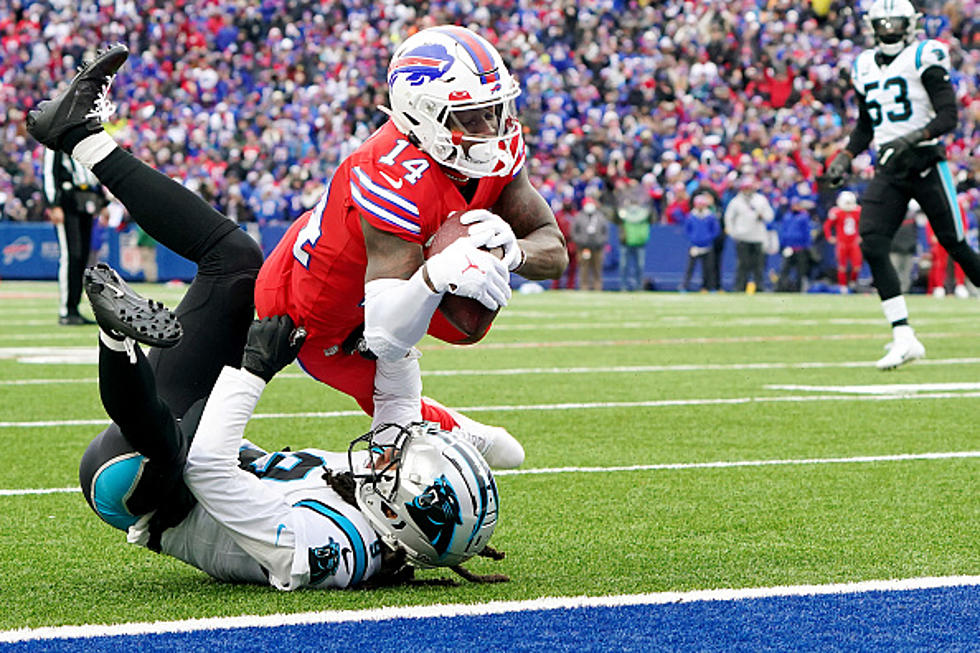 Stefon Diggs Accomplishes Mind-Blowing Stat on Sunday
Getty Images
The Buffalo Bills have three games remaining in the 2021 regular season, with the most important one of them all coming the day after Christmas against the New England Patriots in Foxborough.
The Bills are 8-6, while the Patriots are 9-5 and a win by Buffalo gives the Bills first place in the AFC East.
The Bills got their eighth win of the season against the Carolina Panthers on Sunday, 31-14.
Wide receiver Stefon Diggs caught Josh Allen's second touchdown pass of the game to make it 14-0. Diggs also went over 1,000 yards for the season, which is the second straight season Diggs has had 1,000 yards in his second season in Buffalo.
Believe it or not, Diggs is just the second wide receiver in Bills history to have consecutive 1,000+ receiving yard seasons.
The other being Stevie Johnson, who accomplished the feat from 2010-2012.
It seems crazy that Johnson and Diggs are the only two receivers who have had consecutive 1,000 yard seasons.
Hall of Fame wide receiver Andrew Reed had multiple 1,000 yard seasons, but never back-to-back. Same goes for Eric Moulds, who always seemed to go every other season with 1,000 yard years. Lee Evans and Peerless Price also never accomplished back-to-back 1,000 yard seasons.
Diggs has caught nearly 600 career passes and over 7,000 receiving yards. He's only 28 years old. He's certainly on pace for over 1,000 career receptions and might just be inducted into the Pro Football Hall of Fame some day.
The Bills will needs Diggs to come through this Sunday against the Patriots. Kickoff is 1 pm next Sunday.
The Bills 2022 Opponents We Know Right Now
Here's who we know the Bills will play at home and away in 2022.
Top 31 Places For Tacos in Western New York
Whether you are looking for a drive thru to quickly fulfill your taco craving or an authentic Mexican restaurant for a dine-in meal, these are the top 31 taco places in all of Western New York.
29 Things That Make Buffalonians Happy
What Makes Buffalonians Happy
Mind-blowing Bathroom Inside Million Dollar Buffalo Home
This $1.5 million home has a mind-blowing bathroom that is way too nice.