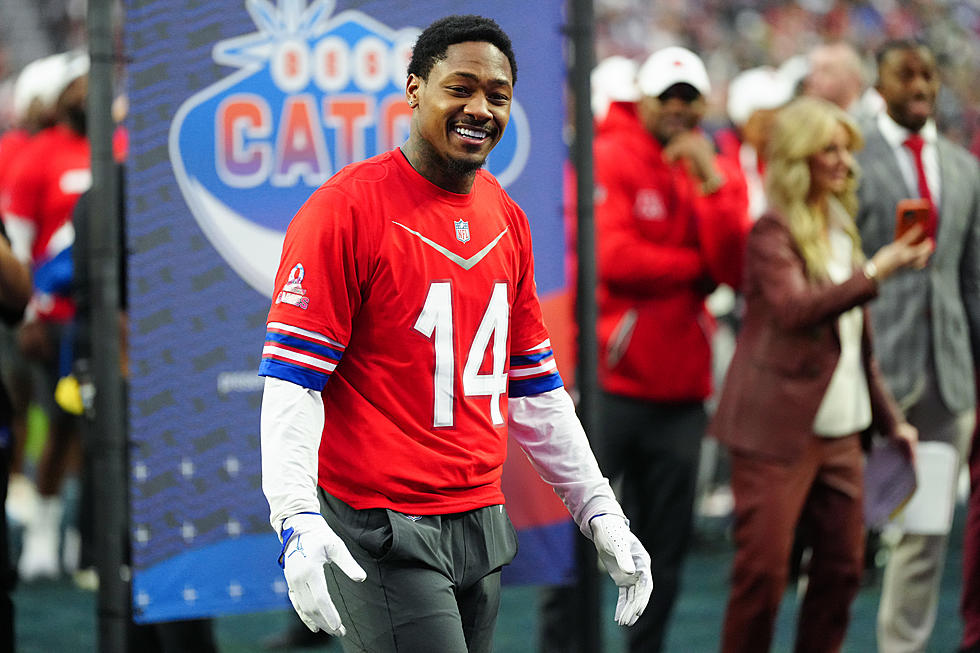 Stefon Diggs Spices Up Practice With Epic Cha Cha Slide
Getty Images
Looking for someone to take to a wedding or maybe to a line dancing night?  Stefon Diggs might be up for it, as long as they play the Cha Cha Slide
For months now, Bills fans have been talking about how miserable Stefon Diggs is in Buffalo.  He sure didn't look it today.
It's been a crazy off-season for the Bills and Stefon Diggs
It started after the loss against the Bengals in the playoffs.  Diggs left the locker room almost immediately and it set off a long string of questions for media outlets.  Is he going to ask for a trade?  Does he want out of Buffalo?
Then he missed the voluntary workouts.  Then he was excused from the mandatory workouts.  People were seriously concerned about where Stefon Diggs' head was heading into this season.
Diggs seemed to be at home today
The Bills and Diggs have both said that the differences of opinion that they each had are just water under the bridge at this point.  On Diggs' first day back at training camp this year, he sat with the media for almost 15 minutes asking just about every question that was thrown at him. He was very forthcoming in his interview.
Today, that appeared to be the case.  He seems to be back in the swing of things and just having fun again on the field.
While the team was warming up and stretching the song "Cha-Cha Slide" came on and Diggs broke into a dance.
The crazy thing is that he was alone doing it.  How does that happen?  After all, a line dance isn't a line dance if it's just one person.
10 Easy, Make-Ahead Tailgate Recipes For Bills Games
Here are some easy, make-ahead recipes to bring your tailgate party to a new level.
These 5 Spots Near Bills Training Camp Will Make You Love Garbage Plates
They may look disgusting, but boy are they good. Seriously, don't knock a garbage plate until you try one.
The Newest Buffalo Bills Jersey Numbers