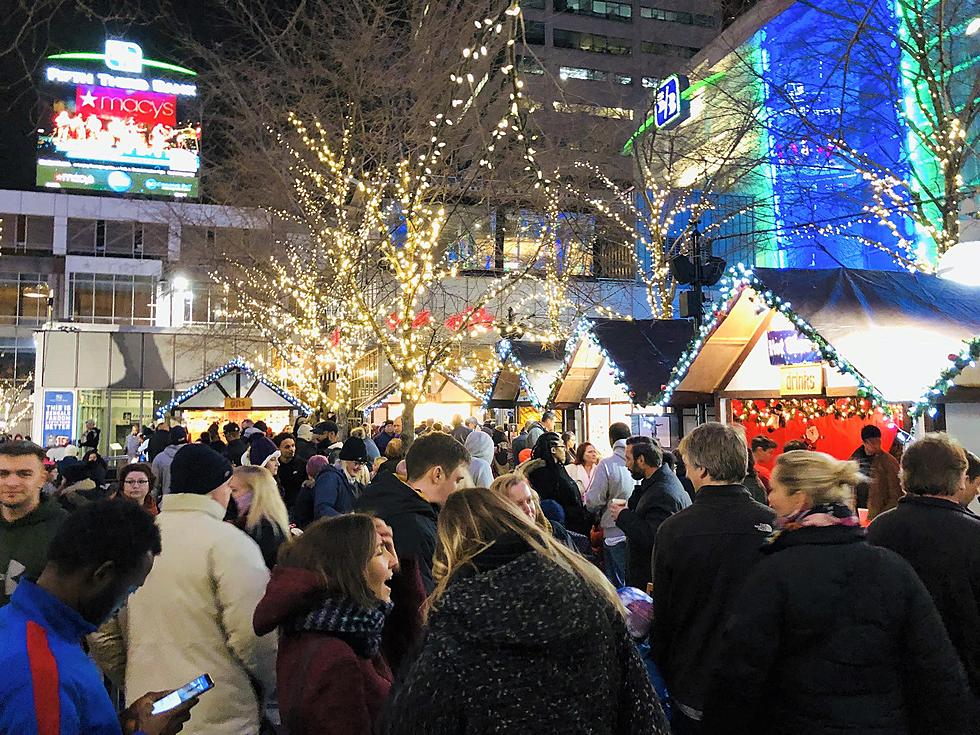 There Are 2 Different Holiday European Markets Coming to Buffalo
Courtesy Hofbrauhaus Buffalo
Wait, is there going to be 2 different tradition European Christmas markets to coming to Buffalo this year? It is going to be an experience like nothing before in Buffalo.
Yes, there are two different Christmas markets and yes,  they happen to be very close to each other. Both are FREE and kids are welcomed!
So, where are the Christmas markets in Buffalo 2021? Who is having the German Christmas markets this year? Here is a little sneak peak of both of them and what to know and expect.
1.) Hofbrauhaus Buffalo (190 Scott St, Buffalo, NY 14204) - The German-themed restaurant that has already become a wildly popular destination in Western New York is hosting a traditional German themed market with over a dozen of authentic German chalets. Imagine the smell of roasted nuts, hot spiced wine, Christmas music all as you walk through the decorated and lit up market will make you feel like you are anywhere but downtown Buffalo. The Christkindlmarket, as it is called.
When is the German market in downtown Buffalo?
Admission is absolutely FREE.
Some of the highlights include. Santa and Mrs. Claus every Saturday from approx. NOON - 2 pm every Saturday.
Christmas cookie decorating for the kids!
Traditional German gluhwein, a spiced warm wine, will be served.
Carriage rides will be FREE on December 11 and 18 at the Hofbrauhaus only.
There will be a collectors mug you can drink out of and collect year after year!
Week 1
Friday, December 3rd 4:00 pm – 9:00 pm
Saturday, December 4th 12:00 pm - 8:00 pm
Sunday, December 5th 12:00 pm – 5:00 pm
Week 2
Friday, December 10th 4:00 pm – 9:00 pm
Saturday, December 11th 12:00 pm - 8:00 pm
Sunday, December 12th 12:00 pm – 5:00 pm
Week 3
Friday, December 17th 4:00 pm – 9:00 pm
Saturday, December 18th 12:00 pm - 8:00 pm
Sunday, December 19th 12:00 pm – 5:00 pm
2.) Loaded Lumber (Flagship Loaded Lumber location in Downtown Buffalo, NY Across from the Casino at 223 South Park Avenue) - Loaded Lumber is putting on a Holiday Spectacular Market. This 4 week shopping series will showcase an exceptional mix of artisan crafters, vintage sellers, and holiday foods from Western New York.
Each week we will be offering a signature mimosa, and you get to keep your glass!
There will also be mulled wine, coffee, hot chocolate and warm donuts each week.
​The Market will run Tuesday-Sunday starting on November 26th-December 23rd. What are the times for the market?
Tues-Fri: 3-9
Sat-Sun: 12-9
Loaded Lumber Christmas Market in Buffalo
Where is the Christmas market in Buffalo? When does the Christmas market in Buffalo start? Do I need tickets?
Authentic, Outdoor Holiday Market Coming To Hofbräuhaus Buffalo This Year
For 2021, the is an Authentic, Outdoor Holiday Market Coming To Hofbräuhaus Buffalo This Year