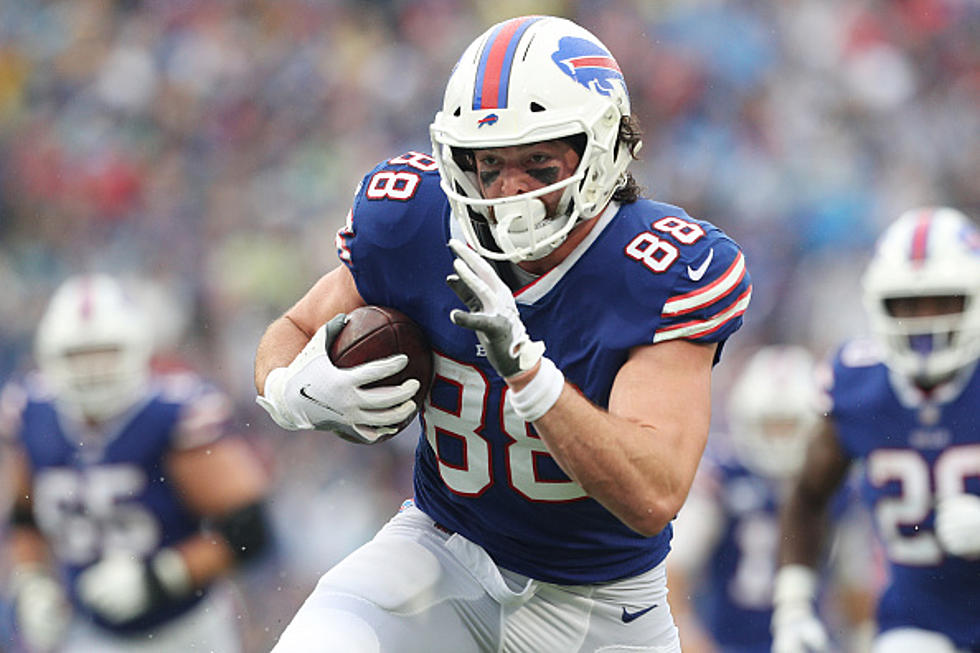 There's Now a "Dawson Knox Apology Form" Bills Fans Can Fill Out [PHOTO]
Getty Images
The Buffalo Bills have long needed a stud at the tight end position. You can go back to the Super Bowl years in the early '90s and there was still work to be done with upgrading the position.
With how valuable a weapon at tight end is in today's NFL, Bills fans have been craving a star at that position. That's why Bills Mafia is very excited about what the future holds for third-year tight end, Dawson Knox.
The potential has always been there with Knox, who was selected in the third round of the 2019 NFL Draft out of Ole Miss. He's extremely athletic and can create mismatches for linebackers and safeties.
Knox's first two seasons featured ups and downs, with drops being the number one problem. This appears to have been resolved and through the first five weeks of the 2021 NFL season, Knox appears to have "arrived."
He has caught 18 passes and five touchdowns so far in 2021, which is a pace for 58 catches and 16 touchdowns this season. Obviously, the odds of Knox staying on a 16 touchdown pace are slim, but he's likely to crack double digits and will easily break the record of touchdowns by a Bills tight end, which is six.
Knox's breakout season has prompted someone on Twitter to create a "Dawson Knox Apology Form."
My favorite part is the "Wanted to sign Zach Ertz", which is a lot of Bills Mafia. It was basically Zach Ertz watch this summer, as the disgruntled tight end had trade rumors swirling around him. In the end, he stayed with the Philadelphia Eagles and the Bills stuck with Knox.
That patience is clearly paying off for Brandon Beane and Sean McDermott.
22 Famous Buffalo Sports Phrases Every Die-Hard Bills and Sabres Fan Knows
Being a sports fan in Buffalo is sometimes like knowing a different language. Here are 22 of our favorite Buffalo sports phrases you already know if you're a huge fan! And if you're new here, here's how to catch up.
Every Pick Made By Buffalo Bills GM Brandon Beane
28 Songs To Play For When You Break a Table
These are the best 28 songs to play when you see someone preparing to take the leap of faith.
The 30 Smallest Towns In New York State On The Brink of Ghost Towns?
The 30 smallest towns in New York State reveal amazingly
low population
numbers.