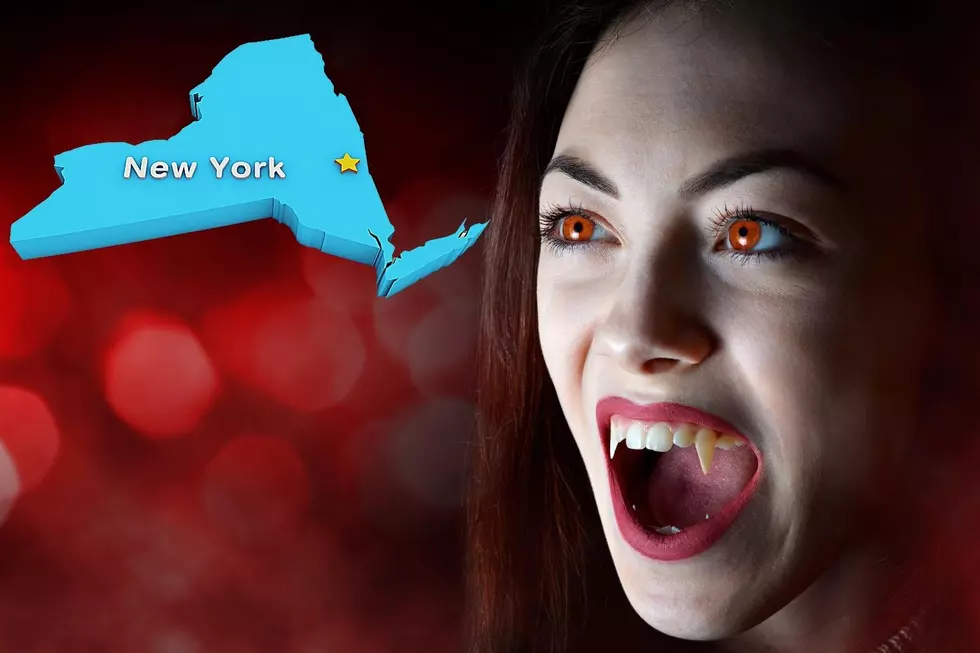 Looking For Vampires? Where To Find Them In New York State
Canva
Whether they show up at your door trick or treating for candy or lurking in a dark corner at a party, vampires will be out in full swing all over New York state this Halloween. But how do you know if the pale-skinned, fang-gnashing caped creature in front of you is just a costume or if they're a real monster?
We're mostly kidding, of course. Vampire stories have been fun folklore used to scare us for centuries. To others, however, vampires aren't just a myth but real creatures out for blood (literally).
If vampires are actually real in 2022, where would we most likely find them in New York state?
A company named Lawn Love looked into this ghoulish idea, ranking 2022's Best and Worst Cities for Vampires. Lawn Love broke down 200 of the largest cities in the United States, analyzing things like population and the amount of blood donation centers (blood is a vampire's sweet treat, after all). They also looked at a city's number of vampire-friendly hangouts like homes with basements and casket suppliers, as well as potential deterrents like lots of sunshine and garlic festivals. They even considered a city's number of vampire "fans" by checking out their nightlife options, vampire-related groups, and vampire tourism. 
You can check out the complete list of 2022's Best and Worst Cities for Vampires here, or keep scrolling to see if your city is prime for housing vampires.
Best Cities For Vampires In New York State
Whether you believe they exist or not, here are the best places in New York state for vampires to call home.