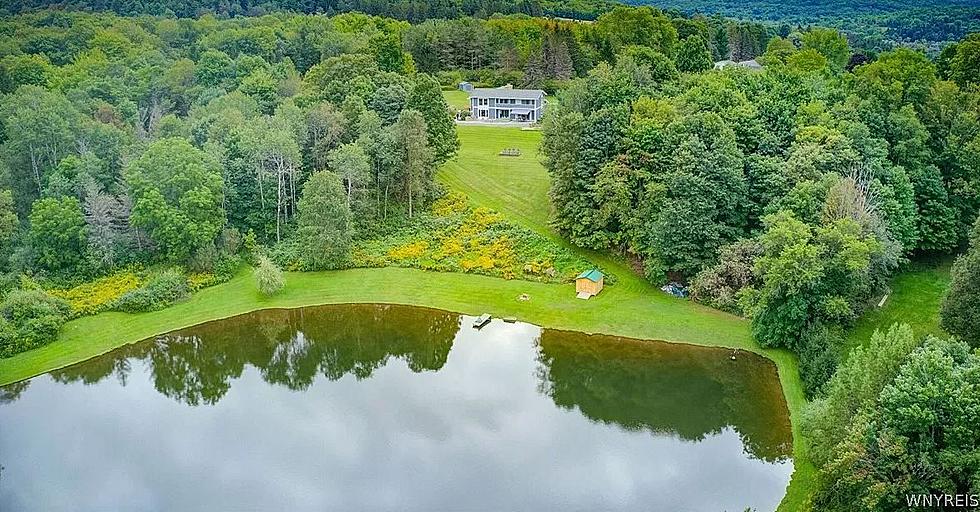 Amazing Country Home In WNY Has Its Own Huge Oasis [PHOTOS]
Credit: Zillow
Western New York might not have the prime real estate like some other cities and regions in the country, with multi-million dollar homes scattered about.
However, one thing that the Western New York region has over other places is amazing countryside and also, great access to water, whether they're huge lakes, rivers, canals, or small bodies of water besides homes.
That's certainly the case for this gorgeous home located in Franklinville.
Listed on Zillow for the sale price of $800, this home features its very own oasis right in the backyard!
Listen to Chris Owen Overnights 12-5 am on 106.5 WYRK
The pond is over one acre in size and can be viewed from outdoor chairs on the back deck from the house, which also gives you a great view of thee southern tier landscape.
As for inside the home, it features four bedrooms and four bathrooms, with a huge kitchen that has stainless steel appliances and its very own furnished island.
The home also has its own outdoor pool and fencing, so if you want to spend some time in the water during the spring or summer, you can do that.
Honestly, I would love having a home with this much privacy and that view is unmatched. The fact you get your very own oasis is a great bonus.
Check out some photos of this Franklinville home below.
Amazing Country Home In WNY Has Its Own Huge Oasis
This amazing home in Western New York has its very own oasis.
Pegulas Sell Lakefront Buffalo Home
Terry and Kim Pegula
sell
one of their Buffalo homes.
LOOK: See inside a modern day castle complete with drawbridge