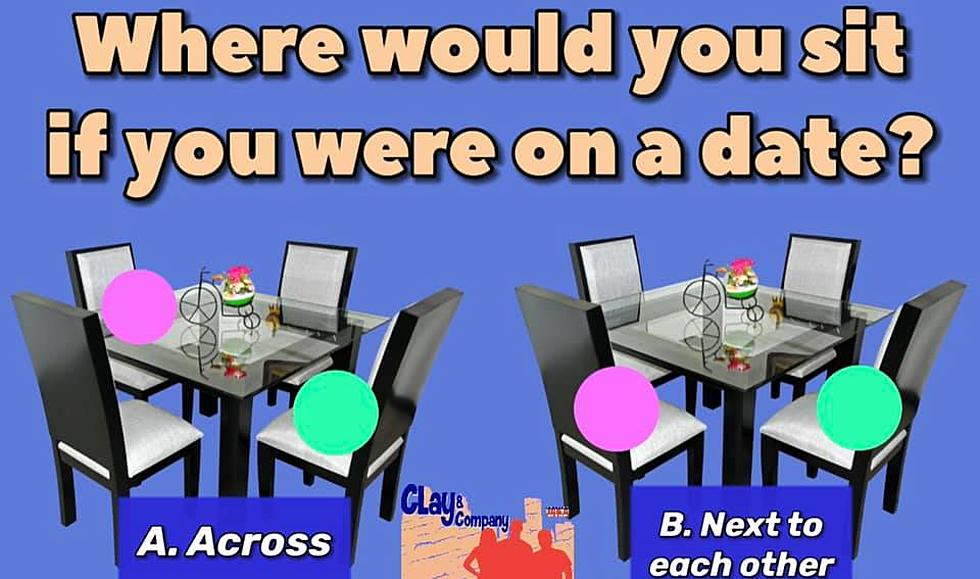 Where Do You Sit On A Date in Buffalo?
Kadie Daye
I have been in Buffalo for maybe a month and Rob Banks thinks that when he saw me out with a guy the other night that I was, in fact, on a date. I understand why he may have been confused, considering that we were at a nice restaurant, there were some fake little candles on the table, and even a decorative flower to mark the centerpiece of the table.


While the environment may have seemed romantic, I thought I made it clear to everyone else inside this Cheektowaga restaurant that I was simply friends with this guy because I chose to sit next to my friend rather than across the table. 
Rob argued that sitting next to someone at a four-chaired table is actually an indication that you like that person.


Rob and I were not seeing eye-to-eye, and we asked Clay Moden to break the tie, but I did not like his answer because he AGREED with Rob!


We took it to social media to settle this one. 
On Facebook, we received what I would call a "healthy" mix of answers, with approximately half of people saying that you would sit across from your date and the other half of people saying that you would sit next to your date.
Where Do You Sit On a Date?
Here are a few other responses that Clay & Company received on Facebook.
On our Instagram story, it was also pretty split, but ultimately I think we have a winner.

Sorry, Rob and Clay. You lost this one. :)
Check Out The 9 Best Patios Bars In Buffalo According To Yelp
Summer weather is here in Western New York and that means we have about 3 to 4 months to get out and enjoy it.
10 Best Things About Cheektowaga
There's a lot to love about it, but the Cheektowaga community has spoken. Here are the top 10 things we love about Cheektowaga.