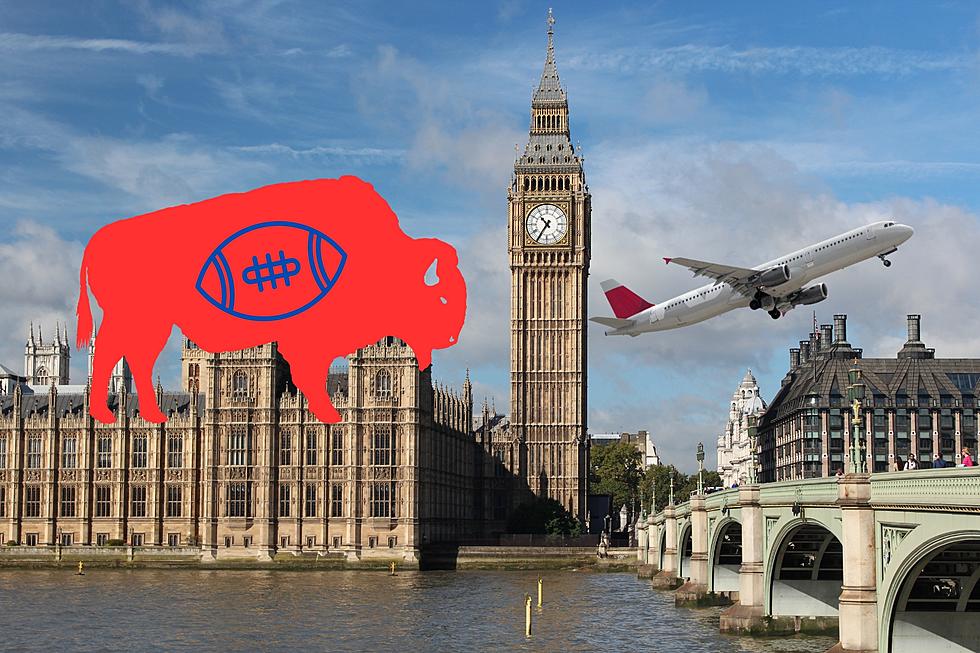 Win a Trip To See Buffalo Play in London
Canva
Labatt and FansOfBuffalo.com are hooking up one lucky fan and guest to leave the land of chicken wings, beef on weck, and their favorite ice-cold Labatt Blue Lights for some fish and chips across the pond for a football experience of a lifetime.
You could win an all-expenses paid trip to watch Buffalo play IN LONDON!
We, along with Labatt Blue Light, will be hitting the street to sign people up at bars and restaurants all around WNY! Location To Be Determined soon. You can also enter online beginning Monday, July 24. All you have to do is click anywhere below...
We, along with Labatt Blue Light and Eagle Beverage, will be visiting your favorite Bars and Restaurants hanging up posters for your chance to enter:
- Bar Bill North - 8/10 6-8 pm
-O'Neill's Stadium Inn - 8/12 10:30am
- Public House On The Lake - 8/17 6:00pm
- The Ridge - 8/18 6:00pm
- Mitchell's Tavern - 8/25 7-9 pm
So crack and ice cold Blue Light and enter today! It could be you in good ol' London-town thanks to Labatt and FansOfBuffalo.com!
Check out all Fans of Buffalo Road Game Packages. Join Fans of Buffalo and let them take care of the rest! Whether it's game tickets, flights, hotels, or tailgate parties, Fans of Buffalo has you covered! No easier way to follow your favorite Buffalo sports team than with Fans of Buffalo. Click the logo below!
Always Enjoy Responsibly. Beer. ©2023 Labatt USA, Buffalo NY, all rights reserved. Labatt reg. U.S. Trademark of Labatt Brewing Company LTD.