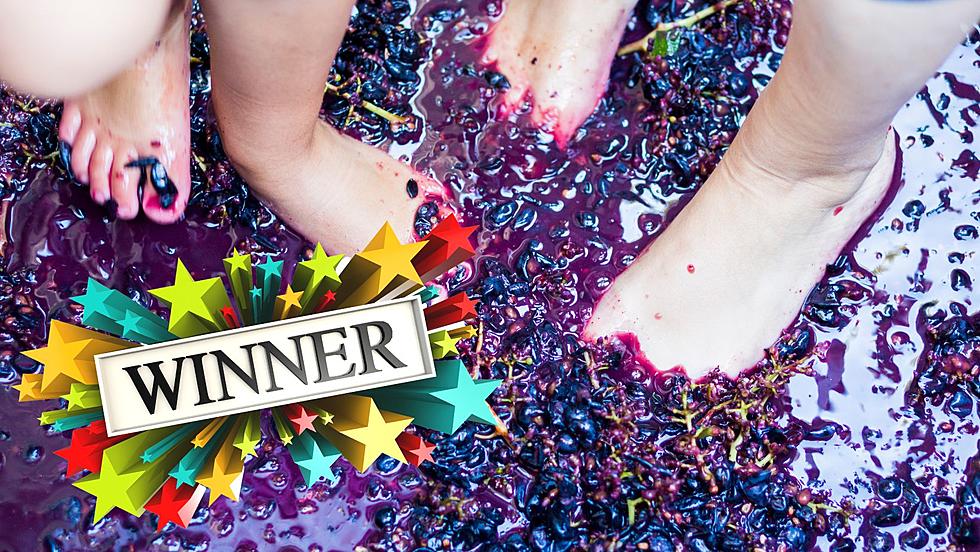 9 World Records Shockingly Set By Western New Yorkers
Photo Credit: Canva Image
To hold a Guinness World Record is a feat within itself, and the bragging rights are already implied…but how many people in Western New York can say that they were part of a Guinness World Record?
Listen to Clay & Company On 106.5 WYRK
Turns out, quite a few! In Western New York, we are known for some pretty weird records, so it seems…but I think there is a world record for almost anything, so long as you can think of it. 
After a quick glance at the records set here in the Empire State, here are 9 world records that included Western New Yorkers and/or were set right here!
The Most People to Stomp Grapes at one time
In 1956, Jamestown, New York's own Lucille Ball made grape stomping famous in an episode of "I Love Lucy." 
In 2014, 1,232 people gathered in Jamestown, NY to set the new grape stomping record, squishing the old mark by over 250 people.
World's Largest Bagel – This record may have been put on display in Syracuse, but some Western New Yorkers had a hand with the World's Largest Bagel, put on display at the New York State Fair in 2004. 
There was a Troy, NY-based bagel company, called Bruegger's Bagels, and they somehow put together an 868 lb bagel to set the new record. Aaannnd now I'm hungry. 
The World's Largest Video Game Collection
This record was set in Buffalo, New York after a local resident was named the Guinness World Record holder for the largest collection in the world in 2014.  That record has since been surpassed, but hey – it's not too late to reclaim it. 
The Most Lucy Look-A-likes
Jamestown LOVES Lucy, and Lucy loved Jamestown – there's no doubt about it. Any chance we can, we pay our respects to Lucille Ball as one of the most talented comedians of all time. On Lucy's 100th birthday, more than 900 look-a-likes, both men and women, gathered to set the new world record at the Lucille Ball/Desi Arnez Center for Comedy.
The World's largest Ice Maze
This is another world record that was set in the City of Good Neighbors! The Guinness World Records Website said, "The maze was created by Roaming Buffaloes, a social networking club for Western New Yorkers. The maze's width was 25.85 m (84.80 ft) and the length was 46.21 m (151.60 ft). The height of the walls was 1.83 m (6 ft). The maze was constructed using 2,171 blocks of each, each weighing 136.08 kg (300 lb)." Now I know what to attempt in our next ice storm. 
World's Longest Basketball Game
In August 2021, a basketball game became the longest ever after five days, 23 players for 24 hours a day. The game clocked in at a world record of 120 hours and 2 minutes. Not only did the 2021 game break the record, but they also raised more than $60,000 for mental health charities across Western New York. The final score was insane too…10,671 to 10,720. 
Longest Line of Pink Garden Flamingos
Buffalo reclaimed the title from South Carolina once again on June 21
st
, 2022. With approximately
1500 brightly colored birds, Buffalo Olmsted Parks was able to set a Guinness World Record for the "longest line of garden flamingos" from tail to beak!
Largest Human Flower
At the Rochester Lilac Festival in 2014, 2,797 participants broke the record for largest human flower. 
Widest Tongues
 Syracuse is home to not one, but two world record holders for unusually large tongues…so I guess you could say they are known for it. Byron Schlenker's tongue measured 8.6 centimeters (or 3.39 inches) and broke the previous record for the world's widest tongue. His 14-year-old daughter, Emily Schlenker,holds the record for the world's widest female tongue at 7.3 cm (2.87 inches).
Want to be part of an upcoming record?
Clay Moden, Rob Banks, and Kadie Daye from Clay & Company are planning to attempt to make the World's Largest Pierogi with your help! Mark your calendar for April 6, 2023 at the Eastern Hills Mall parking lot. We'll be providing more specific times as we get closer!
9 Great Places For Soup On A Chilly Buffalo Day
Soup = the perfect Fall food in Buffalo.
10 Signs Someone Is Rich In Buffalo, New York
How can you tell someone in Buffalo has "stealth wealth"?
11 Best Decisions You Can Make In Buffalo, New York
There are some things you have to do when you are in Buffalo, and here are 15 guaranteed decisions that would serve you well!