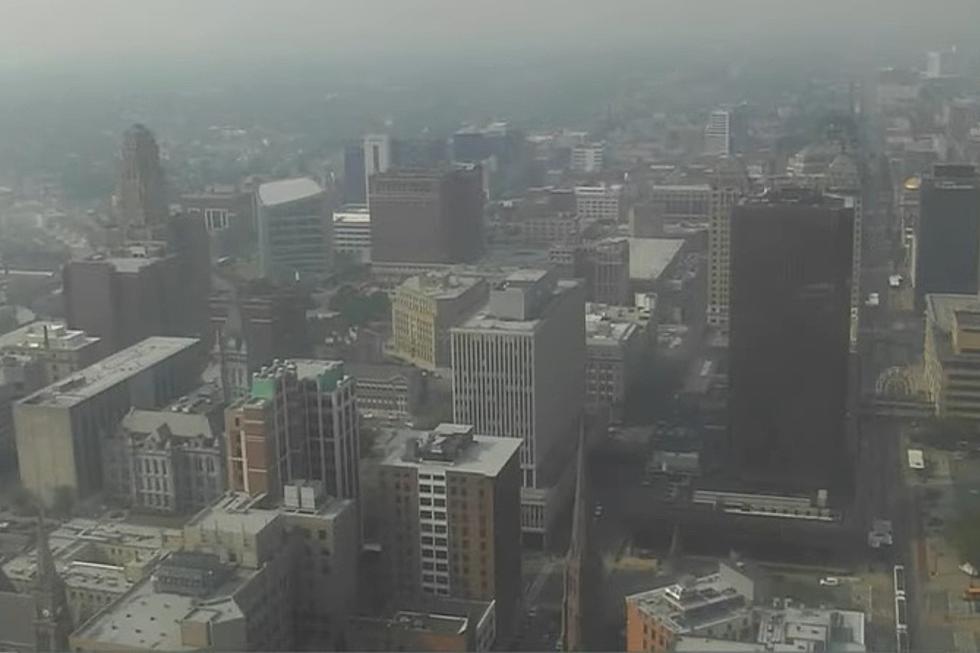 What Does AQI Actually Mean? Here's What To Know, Buffalo
YouTube/Canva
After putting up with snow storms, freezing rain, and freezing temperatures for months, Western New York deserves some gorgeous weather. 
Even though temperatures have been ideal the past couple of weeks, these smoky skies are throwing a damper on our outdoor plans. 
Air Quality Advisory In Western New York
Due to the high number of wildfires currently burning in Canada, along with a cold front that is sending the smoke and ash from the flames directly into our area, the New York State Department of Environmental Conservation has issued an Air Quality Health Advisory for Western New York, with an AQI Index above levels considered safe.
What Is The Air Quality Index?
Scientists developed the Air Quality Index (aka AQI) scale as an easy way to let the public know how clean or polluted the air is and if they should be concerned with any corresponding health effects. 
An AQI of 100 or below is safe for most people, but levels above that could pose a danger. The higher the AQI value, the greater the risk of health concerns. 
Wednesday, Buffalo's AQI measured 218, a number that's considered very unhealthy for some sensitive groups of people. 
Should Western New Yorkers Be Concerned About The Air Quality?
Most Western New York residents will be fine spending time outside with an AQI over 100. However, some that are vulnerable could experience some health effects. 
Children, elderly adults, and people with asthma or other chronic lung diseases should be careful when spending time outside on Friday, as they are more sensitive to breathing issues from the high level of smog. 
It's advised if you fall into one of those groups that you minimize your time outdoors, especially during rush hour when more cars are on the road. 
If you experience any of the following symptoms, contact your doctor right away:
Increased coughing

Chest tightness

Chest pain

Decreased lung function
Hopefully, we'll have plenty of time to take advantage of summer and spend some quality time these next few months. But if you have any breathing issues, be sure to take breaks indoors and try not to expose yourself when the risk is highest.
20 Lunch Spots You Need To Know In Buffalo, New York
Here are 20 places for lunch recommended by fellow Buffalonians that you may not have tried yet!
Perry's Ice Cream "Extra Indulgent" New Pints