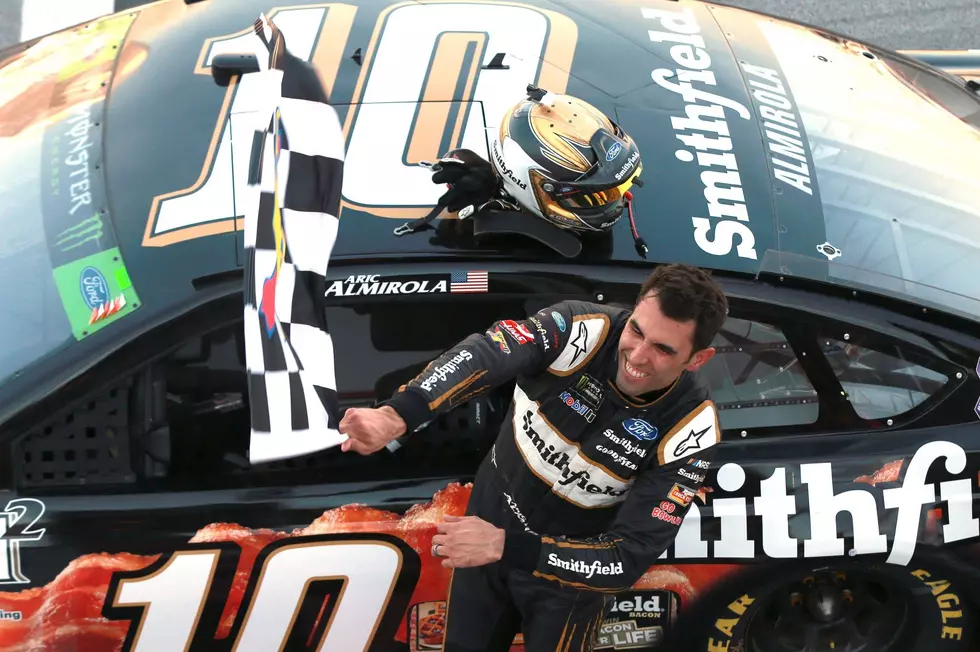 Almirola Wins at Talladega to Advance to the Round of 8
Aric Almirola celebrates his second career victory advancing him to the NASCAR Playoffs Round of 8 (Getty Images)
Aric Almirola says he feels he let his team down so many times this season, but on Sunday at Talladega he finally sealed the deal when he won the 1000Bulbs.com 500.  He needed a little luck to do it when teammate Kurt Busch ran out of gas heading into the final turn allowing Almirola to claim his second career victory and first since 2014.
Fuel was an issue for several drivers especially after a wreck with three laps left forced overtime.  On the restart Kurt Busch held onto the lead with Almirola right behind him and it looked like he was heading for the win when his engine sputtered, opening the way for Almirola to zip by him and cross the finish line .105 ahead of teammate Clint Bowyer.
Ricky Stenhouse, Jr. finished third followed by Denny Hamlin and Joey Logano.  Almirola's win gives him an automatic pass into the Round of 8.  Brad Keselowski, Ryan Blaney, Kyle Larson and Alex Bowman are in danger of elimination following next week's race at Kansas Speedway.