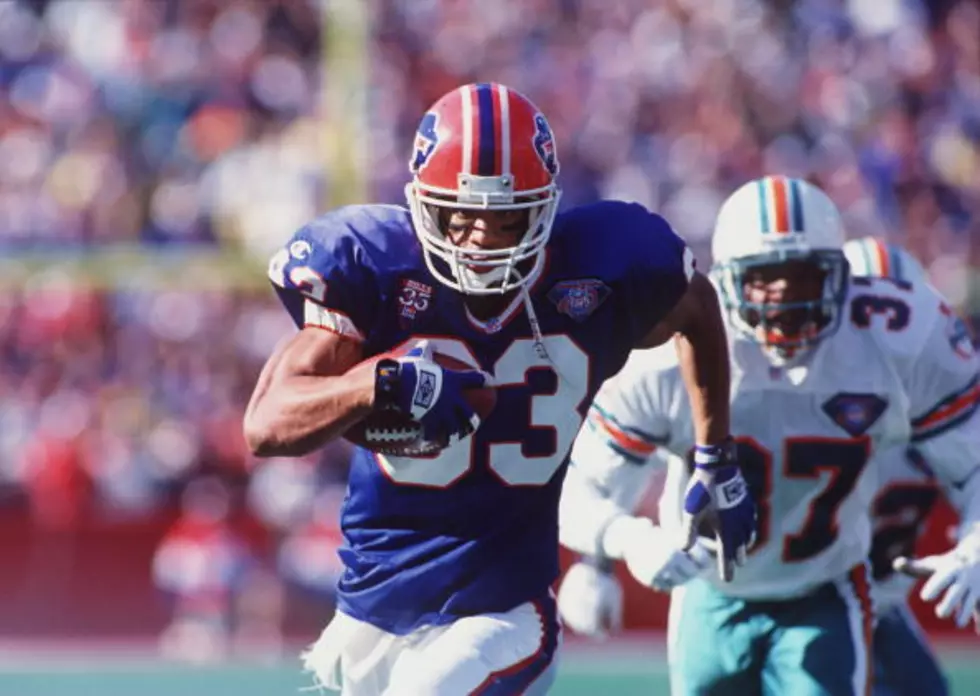 Andre Reed Named As A Finalist for The Hall of Fame
(Rick Stewart/Getty Images)
Andre Reed is one of my all time favorite Buffalo Bills.  I think that it's a shame that he has been passed up for the Hall of Fame for 8 seasons in a row now.  This year, he's got another shot at the yellow jacket.  According to the Buffalo Bills he has been named to the list of finalists once again.
He has been a record holder for the Bills since he played in the 90's and remains a fan favorite.
Best of luck to Andre Reed once again this year!  The class of 2013 will be determined by the selection committee on February 2, just before this year's Super Bowl.
The complete list of finalists looks like this:
Larry Allen – Guard/Tackle – 1994-2005 Dallas Cowboys; 2006-07 San Francisco 49ers
Jerome Bettis – Running Back – 1993-95 Los Angeles/St. Louis Rams; 1996-2005 Pittsburgh Steelers
Tim Brown – Wide Receiver/Kick Returner/Punt Returner – 1988-2003 Los Angeles/Oakland Raiders; 2004 Tampa Bay Buccaneers
Cris Carter – Wide Receiver – 1987-89 Philadelphia Eagles; 1990-2001 Minnesota Vikings; 2002 Miami Dolphins
Curley Culp* – 1968-1974 Kansas City Chiefs; 1974-1980 Houston Oilers; 1980-81 Detroit Lions
Edward DeBartolo, Jr. – Owner – 1977-2000 San Francisco 49ers
Kevin Greene – Linebacker/Defensive End – 1985-1992 Los Angeles Rams;  1993-95 Pittsburgh Steelers; 1996, 1998-99 Carolina Panthers; 1997 San Francisco 49ers
Charles Haley – Defensive End/Linebacker – 1986-1991, 1999 San Francisco 49ers; 1992-96 Dallas Cowboys
Art Modell – Owner – 1961-1995 Cleveland Browns; 1996-2011 Baltimore Ravens
Jonathan Ogden – Tackle – 1996-2007 Baltimore Ravens
Bill Parcells – Coach – 1983-1990 New York Giants; 1993-96 New England Patriots; 1997-99 New York Jets; 2003-06 Dallas Cowboys
Andre Reed – Wide Receiver – 1985-1999 Buffalo Bills; 2000 Washington Redskins
Dave Robinson* – 1963-1972 Green Bay Packers; 1973-74 Washington Redskins
Warren Sapp – Defensive Tackle – 1995-2003 Tampa Bay Buccaneers; 2004-07 Oakland Raiders
Will Shields – Guard – 1993-2006 Kansas City Chiefs
Michael Strahan – Defensive End – 1993-2007 New York Giants
Aeneas Williams – Cornerback/Safety – 1991-2000 Phoenix/Arizona Cardinals; 2001-04 St. Louis Rams