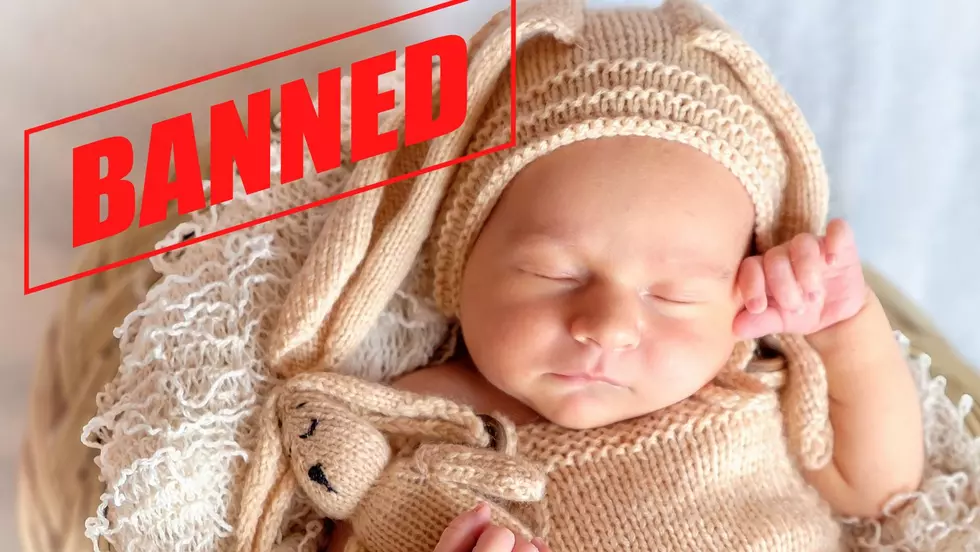 Banned Baby Names In New York And The United States
Photo Credit: Canva Image
It's a very delicate process to pick a name for your child because more often than not, that is the name that they will go by for their entire life. And it's all up to you. 
Listen to Clay & Company On 106.5 WYRK
Do you pick a family name or one that will be memorable for everyone who meets your kid? Is the name you choose going to be overly common, as in several classmates will have the same name as your kid? Are you unintentionally selecting a name that could make another family member jealous, or even angry?
There are so many other factors to consider when it comes to picking out a name for your baby. 
You can see the most popular names in New York state and around the country here but there's some names you should steer clear of.
Because they're banned. 
That's right; there are some baby names that are banned in the United States, so good luck trying to name your kid one of these prohibited names. 
Banned Baby Names in The United States
There are five names that are banned throughout the country, and those five are: 
Adolf Hitler

I don't know who would try to pull this move, but apparently some have tried. 

III

You can't just name someone the Roman numeral for 3. 

Santa Claus

No "

Santa, Baby"

allowed. 

Jesus Christ

You can't name your baby Jesus Christ. 

@ 

Names have been getting crazier, so I guess someone could have tried this before…but know that it's banned.
New York's Baby Naming Rules
While the above names are banned throughout the country, there are specific rules and regulations for each state. In New York state, first and middle names can't be more than 30 characters each. A last name cannot be more than 40, according to thebump.com. Numbers and symbols are also not allowed in New York state, but it is unclear if that includes some numbers and symbols or if it is referring to all of them. 
The 20 Most Popular Baby Names in New York State
The most popular
baby names
for both boys and girls in New York.
Can You Name That WYRK Baby?
We are getting ready for the Miranda Lambert concert at Seneca Niagara Resort and Casino on September 18th with none other than baby pictures!
For the last week, WYRK has been asking for your baby pictures -- but with a country theme! And for a good reason...because we want you to win tickets to see Miranda Lambert, with Western New York's own Claudia Hoyser and Taste of Country Riser Fuzzy and the Rustbelts.
We are taking your country-themed baby pictures, whether they are of you, your baby, your friend's baby -- whomever! Anyone qualifies -- so long as they are in country gear.
You would think that the WYRK on air staff would have at least one baby picture with a country twang; unfortunately this is the best we can do.
Can you name that WYRK Baby?
Baby Animals Born At The Buffalo Zoo