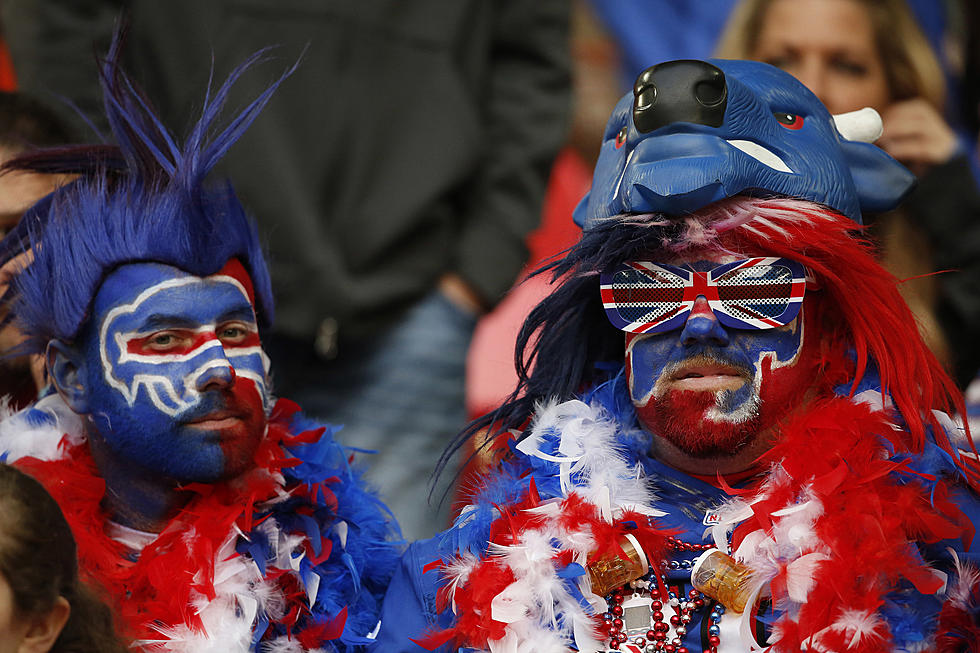 Here Are The Official Bills Backers Bars To Visit In London
Getty Images
Bills fans are everywhere.  This fall there are going to be a ton of them in London.  Want to meet up to cheer them on?
Football season is almost here.  Training camp starts today for the Bills and fans are starting to get pumped about what could be a huge year for the Bills.  If you're one of those fans that has already made up your mind that you're going to London to support the Bills when then take on the Jags on October 8th, you're going to want to map out your trip right now.  Want to hang out with other Bills fans before the game?  That's what Bills Backers Bars are all about.
What is a Bills Backer Bar?
Bills Backer Bars are bars that are all over the country where Buffalo Bills fans can get together and have a couple drinks.  They could be there to watch the game, or the draft, or to raise some money for a charity, they're bars that support Buffalo Bills fans. It's simple as that.
Bills Backers Bars are everywhere
If you're going to be out of town on business and you want to catch a game in Philly, you'll find some there.  Maybe your nephew is getting married in Phoenix and you don't want to miss the game.  Chances are, that game isn't going to be on the regular local stations in Phoenix, but they'll have it at a Bills Backer Bar.  There are over 400 Bills Backers Bar chapters across the country.
Click here for a full list of them.
Where are the Bills Backer Bars in the United Kingdom?
Bills Backers United Kingdom
Follow social media and website for meeting location updates
Chapter President(s): Matt Swain
info@ukbillsmafia.co.uk
UK Bills Backers
Fitzrovia Belle
174 Tottenham Court Road
London, W1T 7NT, United Kingdom
Chapter President: Matt Swain
ukbackers@gmail.com
Buffalo Bills Manchester
Junior Jackson's
64 Oldham Street
Manchester, M4 1LE, United Kingdom
Chapter President: Dalton Weir
BuffaloBillsMCR@gmail.com
Best Bills Fan House In Buffalo
Gallery Credit: Clay Moden
Amazing Shirts Any Bills Fan Will Love As A Gift
Whatever your style - classic, retro, funny, or chic - these shirts that you can get on Etsy are way better than the basic Bills merch in the team store.
Gallery Credit: Megan Carter
15 Hilarious Buffalo-Themed Coffee Mugs For Bills Fans And More
In honor of National Coffee Day, here are fifteen sweet mugs to hold your hot cup of joe while proclaiming your love for Bufflalo.
Gallery Credit: Megan Carter