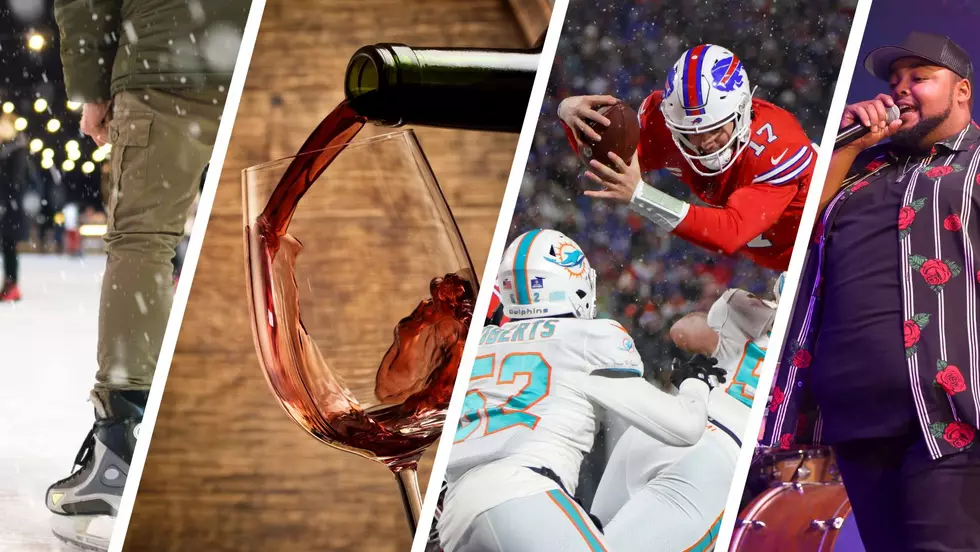 10 Fun Events Happening This Weekend In Western New York
Photo Credit: Canva Image
We are two weeks into 2023, and there is no shortage of things to do in Western New York. 
Listen to Clay & Company, Every Weekday Morning On106.5 WYRK
While the weekend is kicking off with some light snow around Buffalo, it looks like this Sunday will be sunny for the big playoffs game between the Buffalo Bills and the Miami Dolphins when we #SquishTheFish.
But there's more than just football happening this weekend! There are so many fun events that you can take part in with family, friends, or a solo-mission if you'd like.
If you have no idea where to go this weekend, we're here to help!
Every Friday, Kadie's Kalendar takes a closer look at the best events going on around Western New York for that weekend, and this week's edition includes fun wine and winter festivals that you may have forgotten about over the last year.
Take a look at all of the events happening this weekend, and let us know which one is your favorite from Kadie's Kalendar?
Kadie's Kalendar - 01/13-01/15
Want something fun to do this weekend? Here are the top 10 events happening this weekend in Western New York.
There is so much to choose from on the list, but if I had to choose one (other than the Buffalo Bills game of course), I think I have to go with Ice Fest at Canalside. Not only is Hamburg Brewing going to be there, but they are going to have a glow theme skate night and Anna and Elsa from Frozen will be skating on Sunday! And yes…I may be 23, but I like Frozen. 
It's going to be a fun and exciting weekend in Western New York, but is it really that surprising? There is always something to do in Buffalo, and the F.O.M.O. is real, so choose wisely. :)
Kadie's Kalendar is posted every Friday on our website, displaying the top 10 events in Western New York for the upcoming weekend. Make sure you check back every Friday morning for the best weekend events in the 716.
These 41 Bars Are The Friendliest In Western New York
Based on your votes, these 41 bars are most likely to recognize you when you stop in!
These 10 Bakeries Should Be Considered For Best In Buffalo Title
So many locally owned bakeries are around Western New York, but these ones are the top 10.
How Many People In Buffalo Use A Bidet?
You'd be surprised how many people actually use a bidet in Western New York.