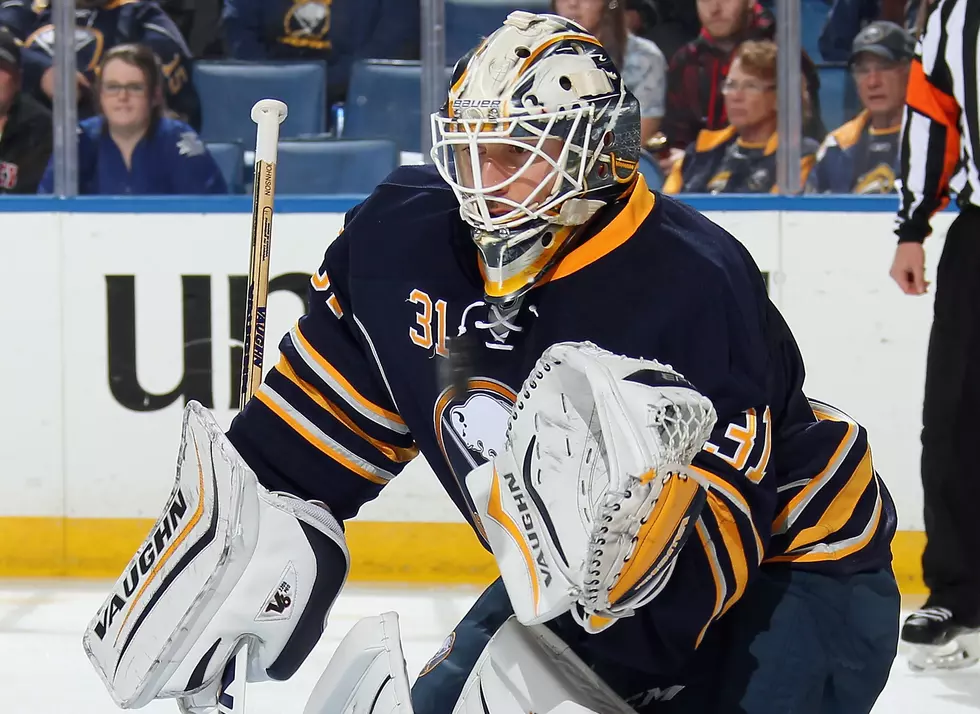 Buffalo Sabres Beat the Boston Bruins Again
Chad Johnson stopped 34 shots to beat the Bruins for the second time in two weeks (Getty Images)
For the second time in two weeks the Buffalo Sabres knocked off the Boston Bruins, this time it was at KeyBank Center.  It wasn't a thing of beauty, but the Sabres were able to score some key goals while Chad Johnson stopped all but one of 35 Boston shots in a 4-1 win.
The key for Buffalo against the Bruins has been getting the first goal.  Benoit Pouliot scored on a rebound late in the first period and Kyle Okposo scored on the power play two minutes later for a 2-0 lead.
After the Bruins scored to cut the Buffalo lead in half Evan Rodrigues scored off a pass from Sam Reinhart to put the Sabres up by two again.  Defenseman Marco Scandella closed out the scoring on a shot from a tough angle that somehow found its way into the net.
Victor Antipin finished with a pair of assists for his first multi-point game.  Rodrigues also had an assist on Okposo's power play goal.
Johnson was terrific in goal especially during the second period when the Bruins had the Sabres hemmed in their own end at one point for nearly three minutes.  The Sabres just couldn't get the puck out of the zone, but Johnson stopped shot after shot until the Sabres were able to get a line change.
The Sabres win spoiled the Bruins debut of forward Rick Nash who was traded from the New York Rangers to the Bruins earlier in the day.  Nash was held without a point.
The Sabres finish off the season series with the Bruins having won three of their four meetings.  The Sabres play at Tampa Bay on Wednesday night.