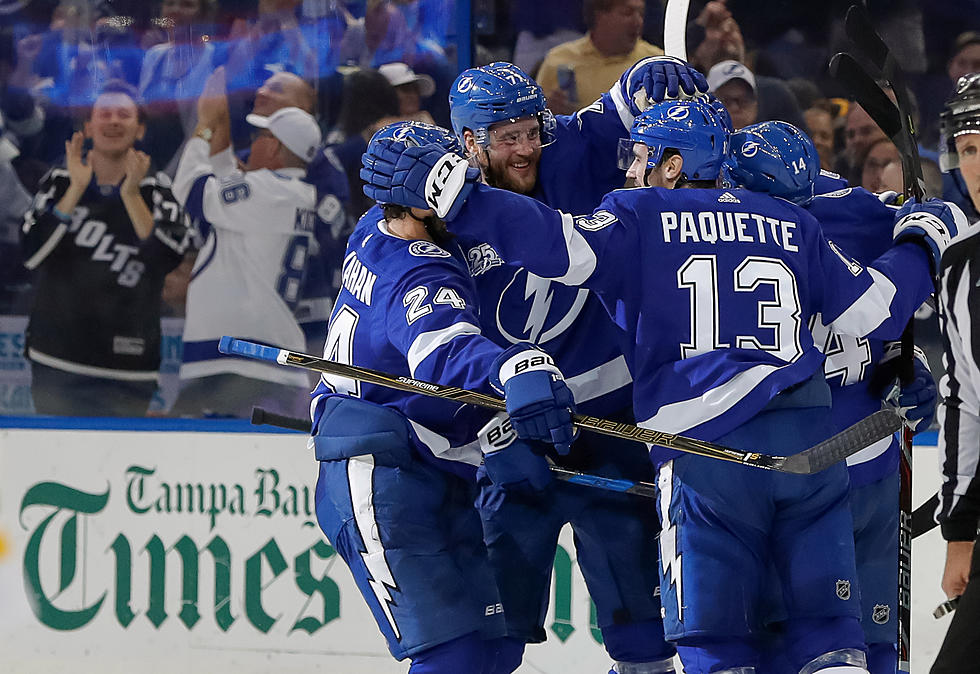 Buffalo Sabres Lose See Saw Battle In Tampa
A scene the Buffalo Sabres have seen way too much of this season, the other team celebrating goals (Getty Images)
The advantage in Friday night's battle in Tampa between the Buffalo Sabres and the Tampa Bay Lightning had wide swings between the two teams before the Lightning finally emerged with a 7-5 victory.  It was a game they badly needed as they battle the Boston Bruins for the lead in the Atlantic Division heading into the playoffs.
Casey Mittelstadt and Alex Nylander each scored their first NHL goals in the first period but by early in the second period the Lightning had a 4-2 lead only to see the Sabres score three in a row to take a 5-4 lead into the third period.  Jason Pominville, Jordan Nolan and Kyle Okposo had the Buffalo goals in the middle period.
Then in the third it was the Lightning's turn to take control.  They scored twice in 47 seconds to turn a one goal deficit into a one goal lead and they hung on until they iced it with a goal into an empty net in the final minute.
As the season winds to a close the Sabres seem to have the power play figured out.  They scored twice with the man advantage Friday night to give them seven in the last four games.  But they've lost their last three games and look to finish strong with a win Saturday night in south Florida against the Florida Panthers.