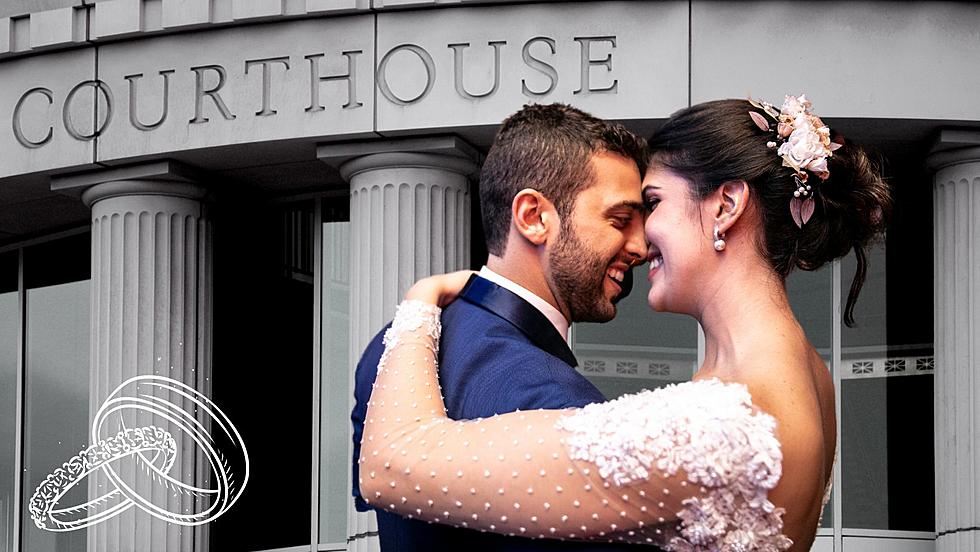 Why Courthouse Weddings Are Becoming More Common In New York
Photo Credit: Canva Image
Wedding planning may be a thing of the past, and I can't say I'm surprised. 
Think about the amount of time and energy goes into planning the "perfect day." You have to find the venue, the photographer, the catering, cake decorator, interior decorator….the list goes on and on. 
It's no wonder why so many brides turn into bridezillas…especially when you look at the price tag of everything. 
The financial website SmartAsset analyzed the cost of weddings in various cities and metros across the United States, and the average cost of a wedding in New York state is absolutely wild. 
According to their research, the average cost of a wedding costs $32,394. (It's worth noting the average salary in New York state is $50,000.)
How are you supposed to go on a honeymoon together if you're spending that much on one day alone?
That's why a lot of engaged couples are looking at alternative options that are more affordable – like a courthouse wedding.
And if you are considering to do the same, there are a few steps you have to go through:
You need a New York State Marriage License. 

Applications for a marriage license can be processed in Room 1301 in City Hall.  You can use this

NYS Marriage License Worksheet Application

to help you fill it out and walk you through the process.

There are certain documents you need to obtain the marriage license.

Those documents include birth certificates, photo ID's, and if previously married, divorce papers, when you come in person.  

Make sure you arrive at the right time to obtain a marriage license.

Marriage license applicants will only be accepted during City Hall service hours of Monday through Friday from 9:00 a.m. to

NO LATER THAN

3:30 p.m. Both parties must be present.

You must provide the following at the time of application:
A current Driver's license with photo or a state issued photo ID such as a non-driver's license, passport, etc.

A Certified Birth Certificate

listing parents' names

Social Security Number
For Canadians, you must bring the long form of your birth certificate, and if previously married, you have to provide a copy of your final divorce paperwork that shows the county stamp on it to show where it was filed. 
To apply for a marriage license, you must be 18 years or older – and pay the $40 fee for the marriage license. 
Typically, the license is issued immediately, but the marriage ceremony can not take place within 24 hours from the exact time that the license was issued.
However, you only have 60 days to get married following the issue date of the marriage license. 
Think about it, paying $40 for a wedding vs. paying over $32,000? I mean, the latter may make the day more glamorous, but think about what else that could go towards! 
And don't worry, you usually have to bring a witness, so you could still invite your best man and maid of honor to be part of your big day! Then you can hold a party at your house to celebrate your new beginning. :) 
Appointments for wedding ceremonies at City Hall or within the Buffalo City limits can be made at the time of the license or by contacting the City Hall office at (716) 851-5274.
What To Know Before Attending A Lakeside Wedding In New York State
Be prepared for anything that comes with the territory of a wedding by the lake with these essentials.
9 Of The Most Elegant Wedding Venues In Western New York
12 Of The Best Outdoor Wedding Venues In Western New York
Here are some of the best places that will give you an incredible outdoor (and indoor backup) wedding experience in Western New York
**NOTE: These pictures were not taken at the venues and do not represent the venue itself.**