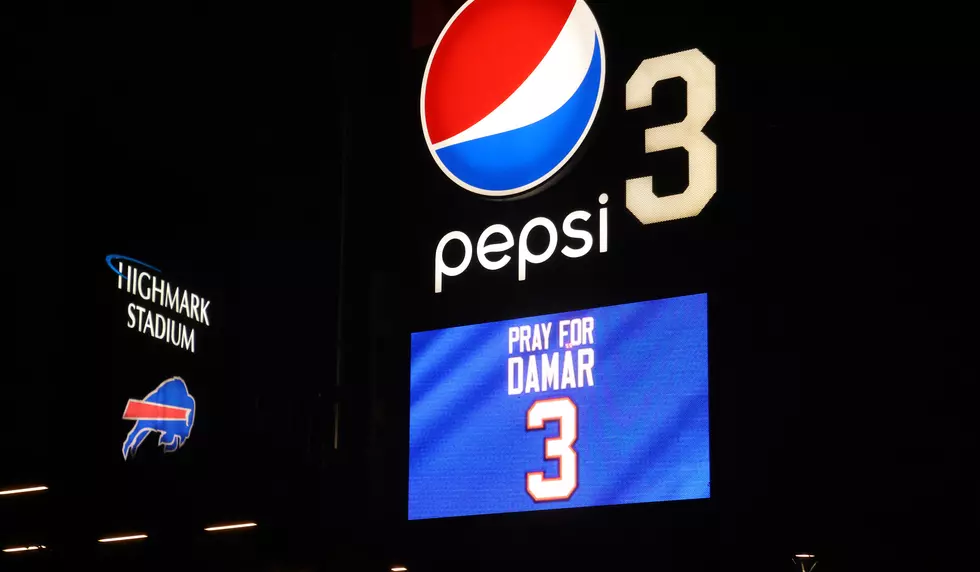 Address to Send Damar Hamlin A Card
Getty Images
It is not just Buffalo, New York that is embracing Buffalo Bills' Damar Hamlin. It is the entire United States. Since Monday night, major landmarks, other pro sports stadiums and more have all lit up red, white and blue to show their support.
We all want to do something. Something to show that we care after the scary incident that happened on Monday Night Football. If you want to send Damar Hamlin a get-well card, there are four locations that are accepting the cards and will get them to Hamlin.
There are two organizations that will be accepting your get-well cards: Smile Mail and both Totally Buffalo Stores. Here are the four locations where you can drop off your cards:
Smile Mail
3221 Southwestern Blvd Pmb 325, Orchard Park, NY 14127
4545 Transit Rd, Williamsville, NY 14221
Totally Buffalo Store
3328 Sheridan Dr, Amherst, NY 14226
3459 Amelia Dr, Orchard Park, NY 14127
Damar Hamlin's charity that he started, The Chasing M's Foundation Community Toy Drive, was an initiative that he started in order to buy kids in our community presents. Gifts were bought and given to less fortunate kids in the Western New York community. Damar Hamlin's original goal was to raise $2,500 on his GoFundMe page. Since the accident that happened on Monday Night Football, his Foundation has passed over $7 million dollars in donations.
The last day that Smile Mail and the Totally Buffalo Stores will be accepting cards will be January 13!
Best Free Agents Signed By The Buffalo Bills
The Buffalo Bills are gearing up for a run at the Super Bowl next season and some big-time free agents are already reaching out to the Bills looking to join the team. Check out some of the best free agents the Bills have signed in the past.
22 Famous Buffalo Sports Phrases Every Die-Hard Bills and Sabres Fan Knows
Being a sports fan in Buffalo is sometimes like knowing a different language. Here are 22 of our favorite Buffalo sports phrases you already know if you're a huge fan! And if you're new here, here's how to catch up.