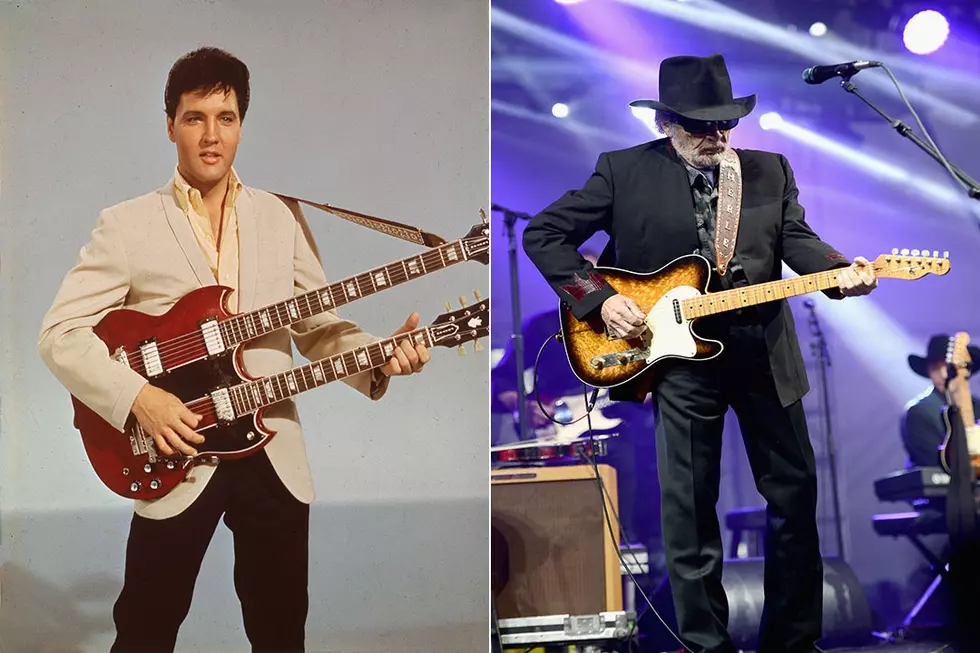 Elvis Presley, Merle Haggard Tapped by Grammy Hall of Fame
Hulton Archive / Stephen Lovekin, Getty Images
Four of country music's most iconic names are being recognized with one of music's biggest honors from the Recording Academy. Elvis Presley, Merle Haggard, the Everly Brothers and Bonnie Raitt will all have some of their most legendary recordings inducted into the Grammy Hall of Fame in 2017, those being "Jailhouse Rock," "Okie From Muskogee,"  "Wake Up, Little Susie" and "I Can't Make You Love Me," respectively.
"The Grammy Hall of Fame represents all genres of music, acknowledging the diversity of musical expression for which the Academy has become renowned," says President and CEO Neil Portnow in a press release. "Memorable and inspiring, these recordings are proudly added to our growing catalog and are an integral part of our musical, social and cultural history."
Presley's "Jailhouse Rock" was recorded in junction with the release of his film of the same name and topped several Billboard charts after its 1957 release. Rolling Stone named it on  its list of The 500 Greatest Songs of All Time. Raitt's "I Can't Make You Love Me" is also included on that list, serving as one of her most critically-acclaimed singles from her career. "Okie From Muskogee," co-written by Haggard, is one of his career-defining songs, with the No. 1 track and album of the same name taking home Single and Album of the Year accolades at the 1970 CMA Awards. Hitting No. 1 across the board, "Wake Up, Little Susie" by the Everly Brothers found immense crossover success in the late 1950s.
The four country stars join an elite list of Grammy Hall of Fame inducted artists. Just some of the other 25 classic hits tapped in 2017 include "ABC" by the Jackson 5, "Changes" by the late David Bowie, Sonny & Cher's "I Got You Babe," "Smells Like Teen Spirit" from Nirvana and more.
10 Best Country Albums of 2016