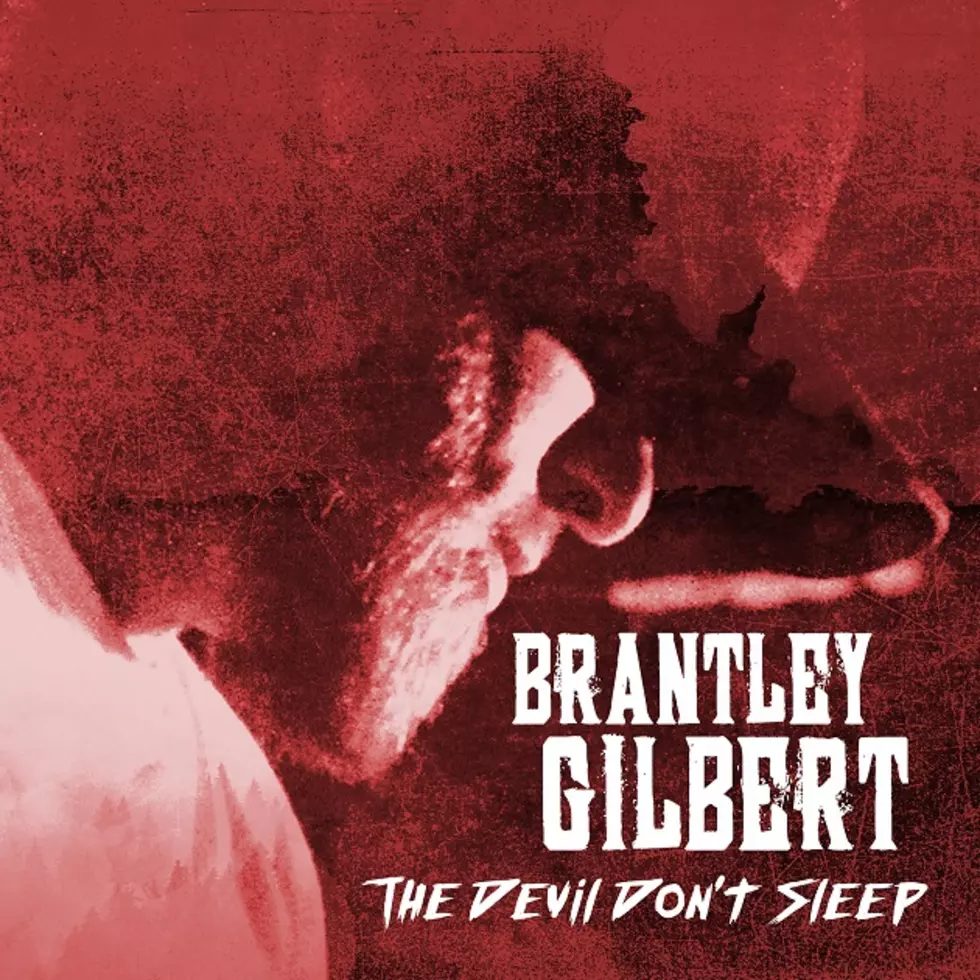 Everything We Know About Brantley Gilbert's New Album, 'The Devil Don't Sleep'
The Valory Music Co.
Brantley Gilbert's fans have been eagerly anticipating his next album, The Devil Don't Sleep, his first studio release since 2014's Just as I Am. The project, which Gilbert announced in October of 2016, features 16 tracks that represent another chapter of Gilbert's life -- and, because of that, are different than anything he's released before.
"You know, there's always the good, the bad and the ugly, but there's a lot of good on this one, because this last chapter of my life has been extremely positive," Gilbert tells Nash Country Daily of The Devil Don't Sleep. "God has been awesome and blessed us in a lot of ways."
Ready to learn everything there is to know about Gilbert's forthcoming record? Read on.
The Title
The Devil Don't Sleep takes its title from one the tracks on the album (Track No. 14, to be specific). The phrase itself is a personal reminder to Gilbert.
"The Devil Don't Sleep is all about knowing that the devil is always there, and there's always temptation," he explains. "It just keeps me on my toes, and it's just kind of a constant reminder to me to move forward and keep my nose in the right direction."
One of those temptations that Gilbert speaks of is alcohol. The artist has been sober for over five years -- but as any addict knows, the desire never fully goes away.
"Decisions are always there to make, and The Devil Don't Sleep, for me, [means] always just being aware that I am an addict," Gilbert notes. "I'm a recovering addict, but I'll always be an addict. Those temptations are there. There's a lot of roads that go left."
But when Gilbert is tempted, he leans on his wife, Amber Cochran, whom he wed in June of 2015, and on God.
"God has blessed me so much in this chapter of my life, and appreciating my marriage and that relationship that is so fulfilling to me. It's my life. She's my best friend. She's the best player on our team," he says. "I've always been a believer first above anything else. I feel like I'm like any other Christian. I think I've definitely strayed from time and time, and my relationship has not always been the best, but I think that's always been a part of my music as well."
The Release Date
The Devil Don't Sleep will be released on Jan. 27, 2017. Both the standard album as well as a deluxe version of the project, featuring 10 extra tracks -- five demos and five live cuts -- are available for pre-order through Gilbert's website store.
The Album Cover
The The Devil Don't Sleep album cover features Gilbert's profile: He's wearing a baseball cap and, of course, his signature facial scruff. The standard, 16-track album's cover is red, while the deluxe version's cover is blue.
The Record Label
The Devil Don't Sleep will be released by Big Machine Label Group's Valory Music Co. Gilbert has been with the label since 2011, after releasing his first two albums on Average Joes Entertainment.
The Single
In July of 2016, Gilbert released "The Weekend" as the first single from The Devil Don't Sleep. The song's title basically speaks for itself: "Some days are longer than others ... and some nights aren't nearly long enough. "The Weekend" is about making that weekend go on and on, and getting every little bit [of] good time out of it. You're gonna give it up all week long, so make every Friday night, every Saturday, every bit you can, matter," Gilbert says.
From the song's beginning to its last whine of electric guitar, "The Weekend" celebrates the glorious days and nights of Friday, Saturday and Sunday. Gilbert explains that the inspiration for the song hit while out on the road.
"We were rolling through the Midwest, South Dakota, Oklahoma, Minnesota, and you see how hard people work -- and how much they need to let it go when they get to Friday! All those people coming out to the shows and rocking hard; they meant business," he notes. "I wanted to write a song that matched that intensity to kick back even harder than you work. That's where "The Weekend" comes from: all those people who came out and threw it down with us."
Gilbert tells iHeartRadio that "The Weekend" is "Bottoms Up" meets "Kickin' in the Sticks" feel. And as far as picking "The Weekend" as The Devil Don't Sleep's first single? It was a no brainer.
"I know the BG Nation," Gilbert says. "They like big guitars, loud drums, something with a little attitude. When it was time to pick out the first single from my next album, "The Weekend" was the only choice."
The music video for "The Weekend" has someone super special in it: Gilbert's wife Amber.
"She was entertained by the idea, I think, at first," Gilbert tells Nash Country Daily, "and then when we got closer to the time and the director, Shane Drake, actually had some conversations with her, and she figured out we were serious about it, she kind of [went], 'Are you sure?'
"But she did wonderful," he adds. "Shane says she was a natural."
The Songs
There are 16 tracks on The Devil Don't Sleep, and save for "The Weekend," Gilbert's stayed pretty quiet about all of them (though fans have been able to hear "It's About to Get Dirty," the album's seventh track, live and in a video game). However, he's given a few clues about the songs as a whole.
"I don't know if I've ever done one as back and forth as this one is," Gilbert says of the album. "It covers a lot of ground as far as just making the genre versatile. It just does a little bit of everything, yings and yangs a lot in the weirdest way. It's awesome. I'm stoked about it."
And fans can, of course, look forward to a few songs about Cochran. They've known each other for over a decade, and she has been in Gilbert's songs for quite some time -- even when they weren't together.
"I identified so many things with her," Gilbert explains. "When it came to love, she was what I knew about love. When it came to heartbreak, she was what I knew about heartbreak ... She's got love songs about her. She had breakup songs about her."
As for those 10 bonus tracks on The Devil Don't Sleep's deluxe version? Those are a direct result of demand from Gilbert's fans.
"As we've been playing shows throughout the years, there's songs, or work tapes or demos, that people have asked about that have been available, or they could dig them up and find them in random places," Gilbert explains, "but we finally wanted to make them available for everybody."
Brantley Gilbert, The Devil Don't Sleep Track Listing:
1. "Rockin' Chairs"
2. "The Ones That Like Me"
3. "The Weekend"
4. "You Could Be That Girl"
5. "Smokin' Gun"
6. "Bro Code"
7. "It's About to Get Dirty"
8. "Tried to Tell Ya"
9. "In My Head"
10. "Way Back"
11. "Baby Be Crazy"
12. "Outlaw in Me"
13. "Bullet in a Bonfire"
14. "The Devil Don't Sleep"
15. "We're Gonna Ride Again"
16. "Three Feet of Water"
17. "At Least We Thought It Was" (demo) *
18. "I've Been There Before" (demo) *
19. "Against the World" (demo) *
20. "Closer Than We've Ever Been" (demo) *
21. "You Promised" (demo) *
22. "Read Me My Rights" (live) *
23. "Hell on Wheels" (live) *
24. "Grown Ass Man" (live) *
25. "Outlaw Women" (live) *
26. "Rick It in the Sticks" (live) *
* deluxe version only
The Songwriters
Gilbert wrote "The Weekend" with Andrew DeRobert, though they had never met face to face at that point. As he explains to Nash Country Daily, a mutual friend in the industry told Gilbert about DeRobert.
"He sent me two tracks, and both of them actually made the record," Gilbert recalls. "He's just an extremely talented guy. I listened to him and probably called him 10 or 15 minutes later, and within a week, we had both of them written over the phone, which was a first for me. I'd never written anything in its entirety over a phone."
The two (finally!) met in person at a listening party for the record.
The Tour
Gilbert's The Devil Don't Sleep Tour with special guests Tucker Bethard and Luke Combs will keep him busy in 2017. The trek is set to kick off on Feb. 2 and wrap up at the end of April; the talented artists will be in Pennsylvania, Maine, Kansas, Missouri, West Virginia and New York, just to name a few stopping points.
More of 2017's New Releases
You Think You Know Brantley Gilbert?