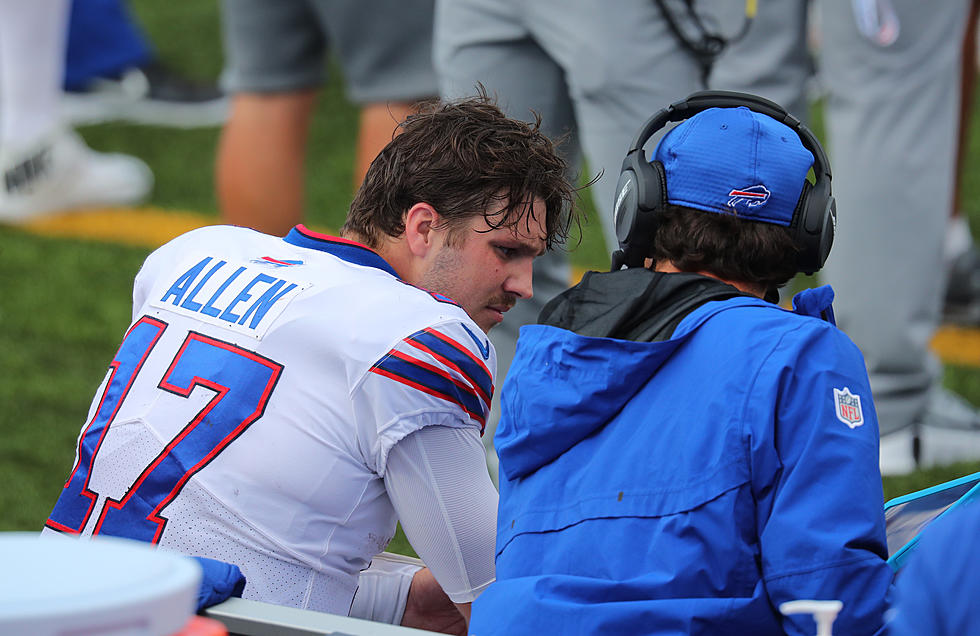 Why Josh Allen Is An Excellent Team Captain [VIDEO]
Photo Credit: Getty Images
Josh Allen has been a team captain for four consecutive years, and it's no surprise why. 
It's clear that Josh Allen leads his team just by being the quarterback – that's something that comes with the role, but a good team leader cares about the team's overall performance, even if they aren't involved in the play. 
Listen to Clay & Company, Every Weekday Morning on 106.5 WYRK
While Josh Allen started the final preseason game against the Chicago Bears on Saturday, August 26, he was pulled out of the game after a quick touchdown at Soldier Field. But that didn't stop him from being involved in the game. 
As the game got closer and the Chicago Bears started to close the gap in the score, Josh Allen decided to step in to give his teammate Kyle Allen some tips to stay ahead. 
You can see Josh Allen giving Kyle some advice below. 
Kyle and Josh actually have been friends for quite some time. Before the 2018 NFL Draft, they met in California and trained together for the draft. And guess what? The two were actually roommates during that training period!
Now that preseason is over, we have a few weeks before we get to see our Buffalo Bills in action again.
The Buffalo Bills will have their first game of the season against the New York Jets at 8:15 PM on ESPN and ABC. The home opener will be on September 17 against the Las Vegas Raiders at 1 PM, and you can watch it on CBS.
Buffalo Bills Themed Beers For Your Tailgate
These are brews you will want for your next Bills tailgate.
One Sentence That Will Immediately Enrage Buffalo Bills Fans [LIST]
Disclaimer: If you're a Buffalo Bills fan and feeling slightly annoyed today, you're about to fly off the handle.
Bills Mafia's Wishlist For The New Buffalo Stadium
The Bills are building a new stadium and here is a wishlist from Bills Mafia.