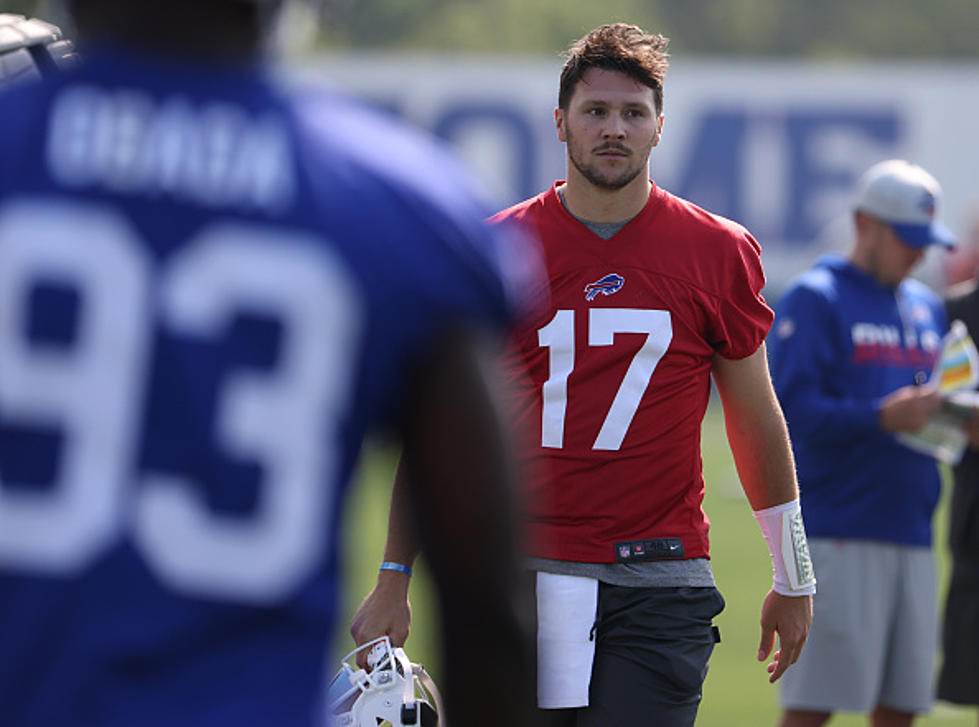 Bills Fans Want Josh Allen to Wear This For Games [VIDEO]
Getty Images
Let's be honest, most NFL players look pretty good in shorts and no pads. You have to take that into consideration when watching OTA's and even some training camp practices, but man, the Bills do look great in the limited OTA videos we have seen so far this week.
Josh Allen had a gorgeous throw to Gabriel Davis in stride as Allen was running up to avoid the rush, which was tweeted out by the Bills on Tuesday.
That video not only had me interested in the throw, but also, what Josh was wearing.
If you remember last year at training camp in Orchard Park (this year they will be back at St. John Fisher), fans noticed Allen was wearing a tinted visor.
Allen used to wear a visor for some games and practices when he was at the University of Wyoming, but he has not worn a visor during a game in Buffalo.
I can't imagine what the visor looks like from Josh's point of view. Clearly it doesn't impact his vision, based off that throw to Davis.
I'm wondering if Josh wears a dark or clear visor for a preseason game at some point, at the very least. There's no doubt the tinted visor looks SHARP on him, and while fans love it, I don't think Josh will wear it for a game; I also have not seen a player wear one in an NFL game, so there might be an underlying rule that says players cannot wear tinted or colored visors.
8 Reasons 1pm Games Are Better For The Buffalo Bills
Price Drop On Jack Eichel's Former Buffalo Home
Price drops on former Sabres captain Jack Eichel's
Buffalo home
.
Rasmus Ristolainen Selling Waterfront Buffalo Home
Former Sabres defenseman Rasmus Ristolainen selling Buffalo home.