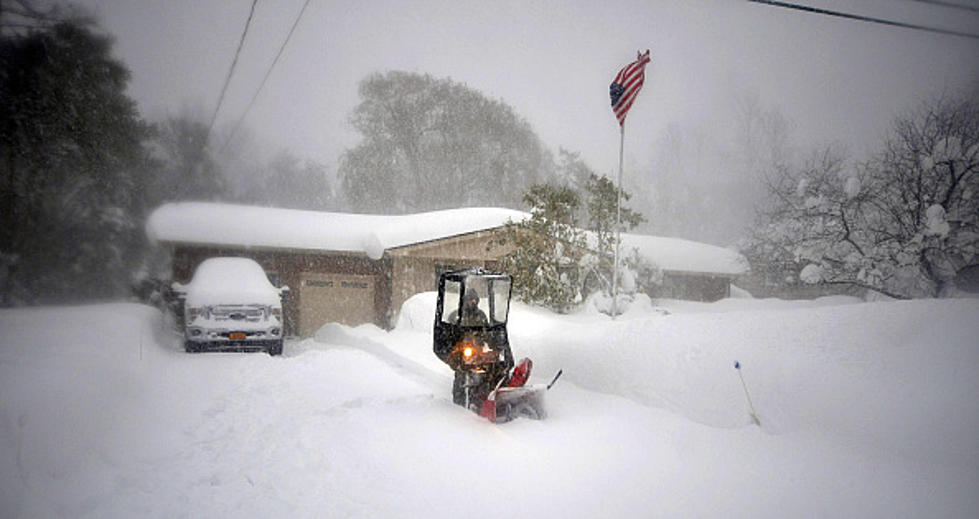 Foot of Lake Effect Snow Forecasted for Western New York
Getty Images
We have gotten used to above-average temperatures in Western New York since fall began. Last weekend was unusually warm, with highs in the mid-to-high 70's and even extending into this past week, with temperatures in the 60's on Friday; albeit with heavy rain.
It appears our good-weather luck has finally run out in mid-November, as we begin a seriously cold weather pattern which includes snow.
You probably know by now there is a Winter Weather Advistory in effect until tomorrow evening for Chautauqua and Cattaraugus counties, with a dusting to an inch or so expected in accumulation for the City of Buffalo and southtowns. While this will provide us with the first real snow of the season, it appears like nothing compared to what's on the way.
The Weather Channel's seven-day forecast is calling for cold temperatures and on-again, off-again snow showers for much of next week in Western New York; Friday and next weekend is what to keep an eye on, however.
The Weather Channel is forecasting 1 to 3 inches of snowfall for the City of Buffalo next Friday during the day, with 1 to 3 inches more during the evening.
As for Orchard Park and the southtowns, the early forecast is calling for 6-10 inches of snow for the duration of Friday; and 1 to 3 more inches the rest of the weekend...
WIVB is calling for lake effect snow next weekend as well.
The temperatures will barely get out of the upper 20's, with lows in the mid-20's for the overnight hours. It looks like we all will get at least some snow, with the possibility of heavy accumulations south of the City of Buffalo, based on this outlook five-to-six days from now.
Keep the snow blowers at the ready...
Snowblower Etiquette Every New York Should Know
Now that Snow is in the forecast more often than not, here are some things you should know about snow blowing.
26 Worst Streets To Live On During a Snow Storm
When the snow doesn't let up, it makes you wonder if a plow has shown up — at least once? They most likely have, but nonetheless, these are the worst 26 streets to live on during a snow storm in Western New York.
The Top 30 Beef on Weck Restaurants In WNY
The 30 best places for beef on weck in Western New York.