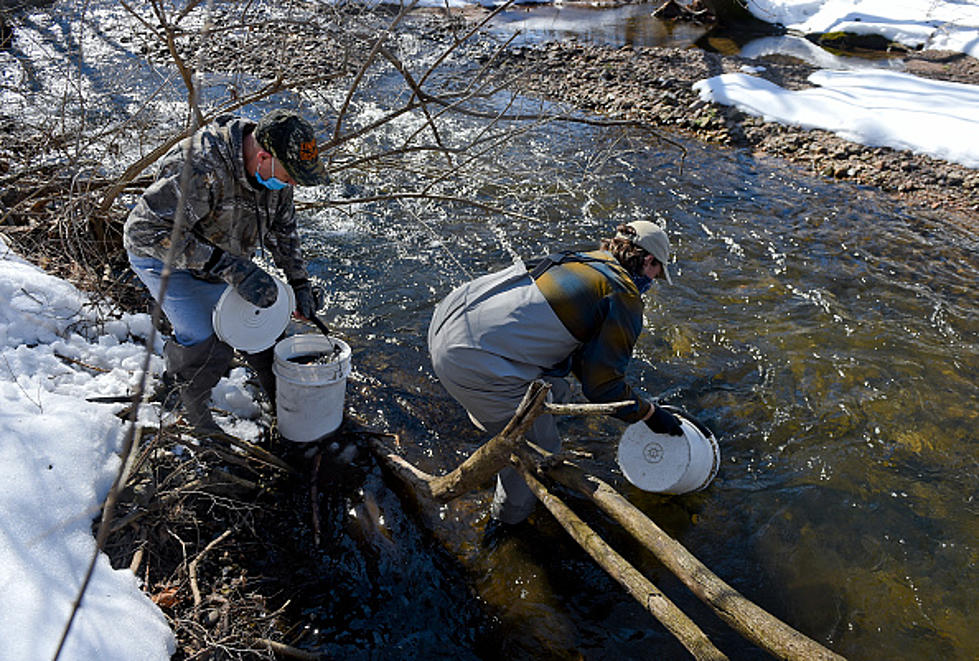 New York State Will Release Millions This Month
MediaNews Group via Getty Images
It is almost time to hang up the snow shovels and break out the fishing poles! The cold and snow may be lingering here in New York State but many are ready to get the spring fun started and, traditionally, that begins with the start of trout season!
We are blessed to have so many amazing places to fish in New York State. From bass fishing on the Great Lakes to the best the Atlantic Ocean has to offer, New York State has it all!
However, it is trout fishing in a cold stream that may be the best of all. The season is about to start in New York and to prepare for it, New York State Department of Environmental Conservation will release millions of trout in streams, creeks and lakes in New York.
With thousands of miles of streams across the state, there are ample trout fishing opportunities in New York State. Each year the DEC stocks around 2.3 million catchable-size brook, brown and rainbow trout in almost 300 lakes, ponds and roughly 3,100 miles of streams across the state.
What are the rules? Where will it be legal to fish for the trout that are released? The New York State DEC posted signs in various locations.
Never fished for trout? You are missing out on some fun! Each year, I would be up before sunrise to get to the streams and start fishing when the sun was coming up. Hearing turkeys gobble on the roost, feeling to frosty air and waiting for the trout to bite is such a rush! Now that I have three boys, we plan on doing the same this year and for years to come! Good luck this season! If you need a little help, here is what NYSDEC recommends to you.
When fishing for trout in streams, it's best to work your way upstream (against the current) whenever possible. This is especially important when fishing for wild or spooky fish. Trout usually face into the current and will be less likely to see you approaching from behind.
Giant Springs Trout Fish Hatchery
Giant Springs Trout Fish Hatchery
Watch Ace Pilots Deliver Over 90,000 Trout to Colorado's Alpine Lakes
Ever wonder how Colorado's Alpine Lakes are stocked with fish? Watch these pilots deliver cutthroat trout to lakes in Gunnison and Delta Counties.