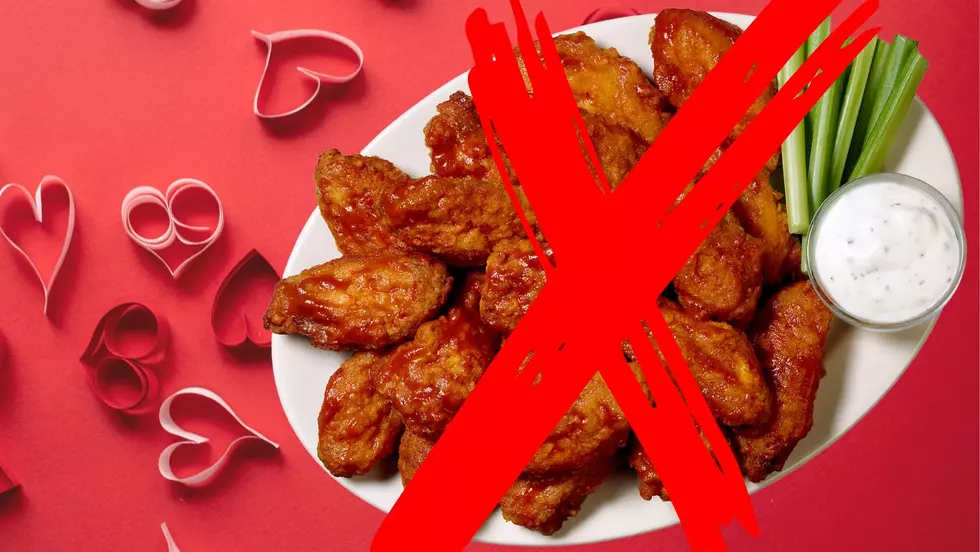 You Shouldn't Eat Wings In Buffalo, New York On Valentine's Day
Photo Credit: Canva Image
Valentine's Day is right around the corner, and you may want to err on the side of caution when it comes to date night decisions. 
Listen to Clay & Company On 106.5 WYRK
Especially if you are planning to go out to eat that night. 
There are just some foods you should not eat, and as long as you follow this list, you should be in the clear for your big date. 
Though I will say, one of our favorite Buffalo foods is on the list, and it may be hard to resist! 
One food magazine, Mashed, revealed the absolute 10 word foods to eat on a first date, and you can see the full list below. 
The Worst 10 Foods To Order On A First Date
These are the worst 10 foods to order on a first date, according to
Mashed
the food magazine.
I think most of the food items on this list are understandable….except maybe the #1 food: buffalo wings. 
Now, I know we don't call them buffalo wings, but you get what they meant. 
If you're at a sports bar and it's during happy hour, you may want to dive into a basket of buffalo wings. But it may be smart to avoid ordering this.
We all know that wings can be messy, and you definitely don't want to make that first impression on a date. They're drippy and runny and the sauce gets everywhere, and it's difficult to eat that meal in any delicate way. 
Sure, there may be ways to limit the mess, but it's probably best to save the wing night for your friends…until you become more comfortable with your date. 
7 Places For Wings In Buffalo Only Locals Go To
Locals only visit these places for wings for a reason; they're phenomenal.
11 Best Decisions You Can Make In Buffalo, New York
There are some things you have to do when you are in Buffalo, and here are 15 guaranteed decisions that would serve you well!
Country Concerts in Buffalo, New York
Here are all of the country concerts happening in Western New York.