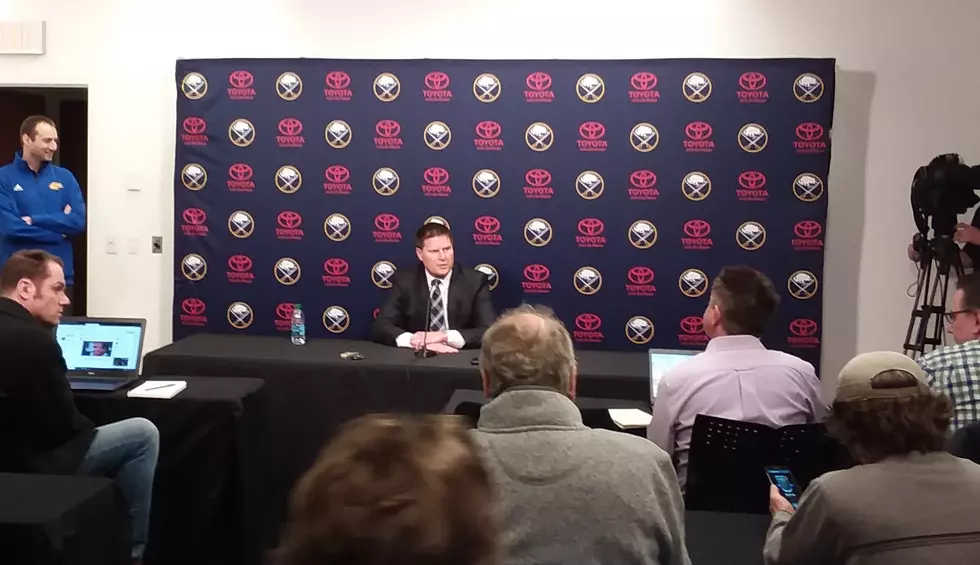 Sabres GM Botterill Reflects On A Season to Forget
Dale Mussen photo
The fans are angry, the players are angry, coach Phil Housley is angry and Buffalo Sabres general manager Jason Botterill made it a clean sweep on Wednesday when he met the media for his season ending press conference.  In Botterill's words "it sucks that we won't be watching live playoff hockey."
Here's a man who spent the last 10 years in a management position with the Pittsburgh Penguins, a team that has a winning tradition.  It has to be a kick to the gut to contend with the situation he's had to deal with this past season in Buffalo.  Botterill conceded they're a last place team because they deserve to be.
But enough is enough.  He said he's looking to the players to provide answers and what they plan to do to make a difference.  It starts with offseason training, getting themselves physically ready to play hockey.
Will it mean roster changes?  No doubt, even if it means moving some core players.  Could that mean Ryan O'Reilly who admitted at times this season he had lost his love of the game?  I wouldn't be surprised.
But in defense of O'Reilly Botterill said "he gave you an honest opinion and in today's sports world, that's a little bit unique. You look at Ryan and he was a big part of our team, but it's also an emotional game and when you don't get the results you want, it can be draining on a player and what he said is probably indicative of a lot of our players inside the organization."
Botterill said the Sabres would be active in free agency, but said a team has to be built from within.  He's looking at some of the players in Rochester to compete for jobs with the Sabres next season.  He expects a top notch player to be available to the Sabres no matter at which draft position they end up with 1 thru 4.
Two things he did reveal.  Coach Phil Housley will return as coach next year "100 percent."  He likes his system.  He likes the way he communicates with the players.
Botterill also said goaltender Linus Ullmark will be with the Sabres next season.  Who will the other goaltender be?  That's a question that still must be addressed.  Will it be Robin Lehner or Chad Johnson.  Botterill revealed that Lehner will not need surgery on a lower body injury, but in terms of his play "I think Robin had a year where he was certainly disappointed in the final results and if you look at our goaltending overall, like our team, it needed to be better."
Lots of work needs to be done over the next couple of months, but this Sabres team will be radically different in September.  As Botterill said several weeks ago, it just isn't working.