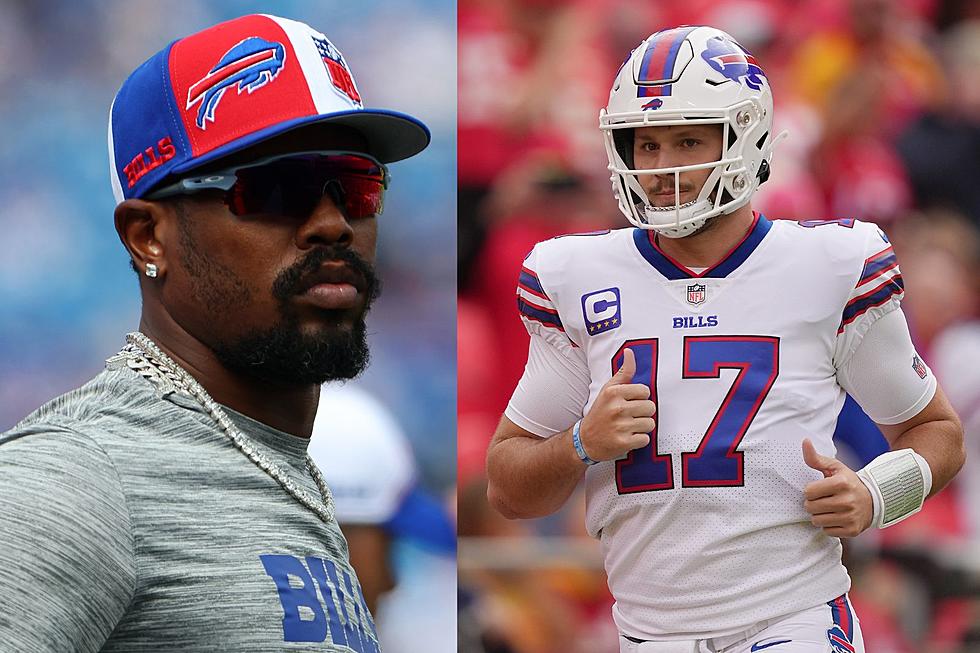 Von Miller Weighs In On Josh Allen Fight
(Getty Images/Canva)
Everyone has thoughts about how Josh Allen handled himself in the game against the Giants.  Von Miller gave his today.
Sunday night, the Buffalo Bills played the New York Giants in what turned out to be a tough competition for both teams.  While many thought the Bills should have blown the Giants away, it turned into a tight competition that came down to the last play before it was decided.
But one play, in particular, stood out and raised eyebrows across the league.
Josh Allen stood up for his lineman
Football is a physical sport.  It is almost literally a fight for many of the players that goes on for a couple of hours.  Emotions run high and it's not uncommon to see some fights.  It's pretty normal to see an offensive lineman stand up for their quarterback.  Anytime someone messes with them, other players jump in.
It's not at all normal for a quarterback to get in the middle of a fight for one of their linemen.  Normally they stay out of that stuff.  But not Josh Allen.  On Sunday when his right tackle Spencer Brown got shoved by a couple of the New York Giants, Allen was one of the first to come in and put an end to it.
Von Miller shares his thoughts on how Josh Allen handled himself during the "mele"
During his press conference today, Von Miller was asked if he had suggested to Allen that he shouldn't try to take on a linebacker in the end zone.  Miller knew immediately what the reporter was asking and he laughed.  Miller's response was that sometimes you need to let people be who they are and in Allen's case he compared him to a mustang and said,
"That's what you want to see.  That's why I came here.  I came here because, a huge part of it was Josh Allen.  You know I love Josh.  I love his mentality and you can't really tame a mustang.  You gotta let 'em be.  You gotta let 'em be wild." - Von Miller on Josh Allen
(Skip forward to 8:17 to see Miller on Allen)
Von Miller's $4 Million Dollar Mansion Up For Sale
Von Miller has listed his "Club 58" mansion, which is named after the number that he wore while with the Denver Broncos, for $4,125,000 dollars.
Gallery Credit: Dave Fields
11 Pictures of Why We Love Josh Allen
Gallery Credit: Rob Banks
Best Pictures of Josh Allen Proving He's A Superstar
Josh Allen is certainly living up to the hype after a show-stopping performance in Los Angeles.
Gallery Credit: Rob Banks