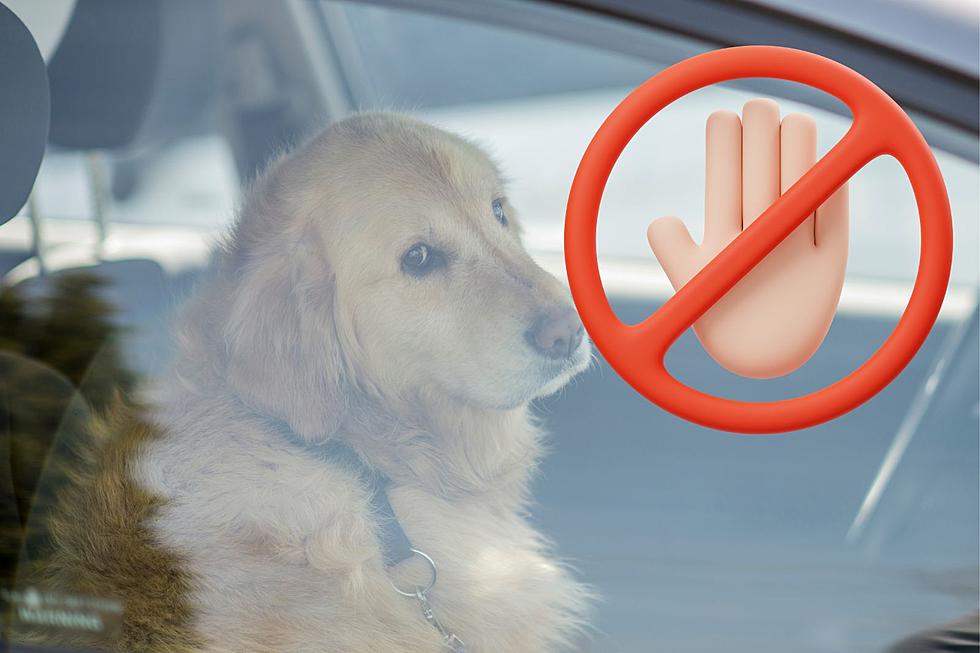 Legally, Can You Break A Window To Free A Dog From A Hot Car?
(Canva)
With temperatures near 90 it's hard to believe that people are still doing this.  Sadly this reminder still has to be put out there.
It's unbelievable that people still do this to their animals.
STOP leaving your animals in your hot car.
I just saw this again earlier this past week.  We went out to breakfast at a restaurant in the south towns and as we sat waiting for a table to open up, I looked into the parking lot to see a dog pacing from the back seat to the front seat of a vehicle with no one in it.
It was not even 9 o'clock and the temperature was near 80. Which means that it was much much warmer in the car.  The window was opened about 2 inches in the back.  The ones in the front were closed. Add that to the fact that a dog always has a coat on and doesn't sweat to cool themselves off and it's a recipe for disaster.
I mentioned something to one of the waitresses and they took care of it with their customer.  But why do people still do this?
Can you legally break a window to save a dog from a hot car?
While this dog was clearly uncomfortable, it luckily wasn't in danger at that point.  However, just a few minutes more and it could have been.  So what can you do?
Unfortunately, in New York State, there isn't a "Good Samaritan Law" that will keep you free from legal trouble if you break a window.  According to the Animal Legal Defense Fund, you could get yourself into trouble by doing that.  There are only 8 states that will allow any "Good Samaritan" to break a window to free an animal if it is left in a hot car.  Those states are California, Colorado, Indiana, Massachusetts, Wisconsin, Florida, Ohio and Tennessee.
What can you do to save an animal in a hot car?
If you know who the owner is, you can simply address them and make sure they know they've left the animal in the car first.  However, if you don't feel safe doing that, you can tell someone at the establishment where the car is parked.  If you're at a store, tell a manager.  If you're at a restaurant, tell the waiter, etc.
If all else fails, call the police to help free the animal from the vehicle.  They are the only ones in New York State who can legally do that.
But above all else, DO NOT LEAVE YOUR PET IN YOUR CAR this summer.  If you cannot take them in with you, leave them at home where they will be safe.
These Are New York's Cutest Pets [PHOTOS]
We celebrated National Love Your Pet Day this past Sunday and we wanted to show off some of the cutest pets in New York.
25 Reasons Why You Should Adopt Your Pets In Western New York
Examples of Pet Safe, Toxic, and Poisonous Plants
These are examples of plants that are pet safe, toxic, and poisonous if ingested. It is not a complete list of every safe and non-safe plant.