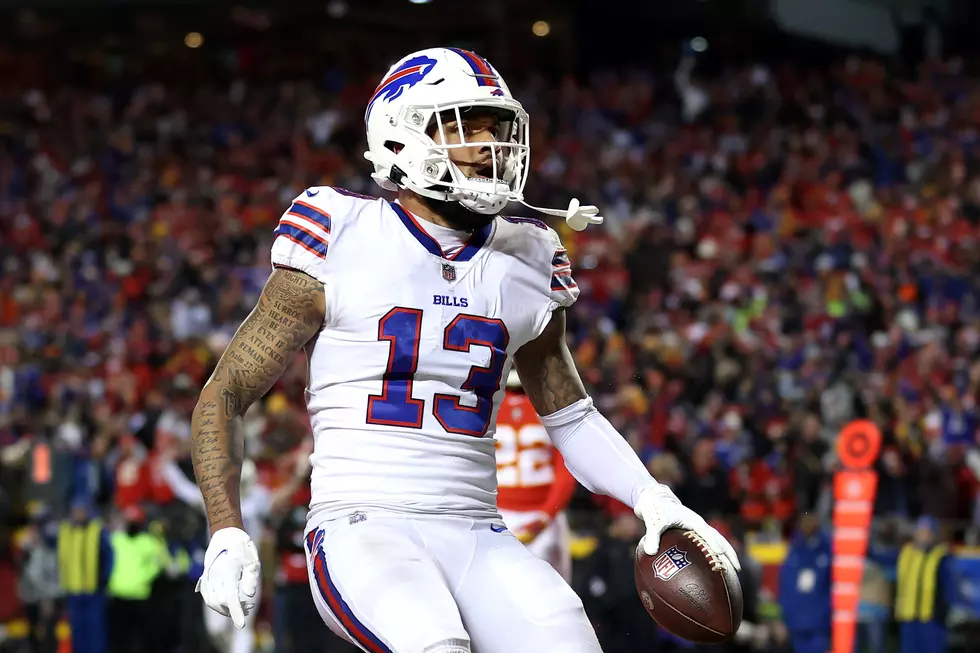 Should Bills Fans Really Be Worried About Gabe Davis?
Getty Images
Many people thought that Gabriel Davis was going to have a breakout year this year.  Now they're wondering if he is even good enough to be our #2 wide receiver.
There's no question that we've got a #1 wide receiver in Stefon Diggs.  He's almost always coming in at the top of the league when ranking receivers.  But who is our #2?  A lot of people felt pretty good coming into this season with Diggs at #1 and Gabe Davis at #2.  But they've definitely lost a little confidence in him.
But should they be worried?
Week after week we see Davis with huge drops.  They're catches that most people think he should easily be making. They're drops in huge moments of the game.  The one against the Jets right after Allen hurt his elbow and he launched it down the field for like 70 yards definitely stands out.
The ball hit him right on the money, but he just couldn't bring it in.  Now, I will say that he had a defender all over him. It wouldn't have been an easy catch by any means.  But it's one that he had to make.
Sunday, on the final game of the regular season, he had another drop.  This one wasn't crucial.  The Bills were up by plenty but it was a definite touchdown.  It went right through his hands.  He was targeted 10 times during that game and only managed to bring in 3 catches.
It's got Bills fans worried about him.  Can we trust him to make a catch during an important moment of the game like we did last year?  He scored 4 touchdowns in the playoff game against the Chiefs.  Many are asking, can he do it again?  He's had some huge catches at very important times for the Bills.  Aside from the Chiefs game, do you remember the catch against the Colts?
The funny thing is, he's not having an awful year...if you're strictly looking at his stats.
He's actually having his best year.  He's got more of everything this year.  He's got more receptions, more yards, and even a higher yards-per-catch average.  He's actually better in just about every stat this year.
The question is, can he end the drops?  It's more important now than ever.
Top 10 Receivers In Buffalo Bills History
The Bills have had some amazing wideouts. Here are the Top 10 based on reception yards in Bills history.
QUIZ - Can You Name These 25 Buffalo Bills Players?
Alright...Bills Football is here. How big of a fan are you? Can you name of 25 of these Buffalo Bills players?
Four Bills Players Who Could Leave Buffalo in 2023/2024
Four players that Buffalo Bills general manager Brandon Beane will have to make decisions on.