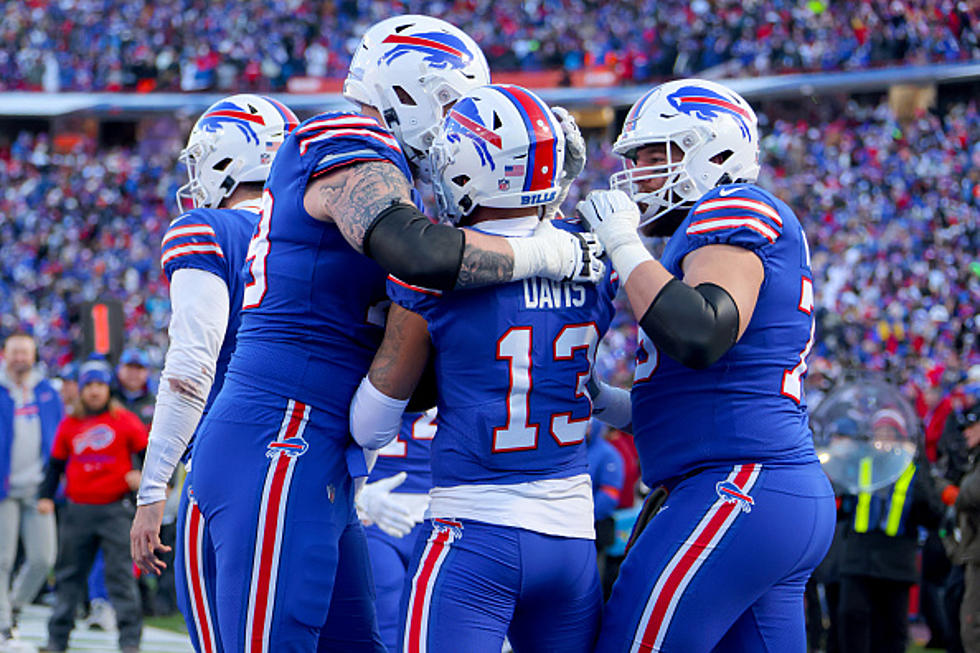 Popular Buffalo Bills Player Is On Hidden Camera [WATCH]
Getty Images
The hype surrounding the Buffalo Bills is huge these days. The Bills Mafia has grown in huge numbers and multiple celebrities have jumped on the bandwagon.
Could you recognize your favorite player if you saw them in public? What about the rest of the team? How well do you know them?
This video from M&T Bank shows an unsuspecting person at the teller at M&T Bank in Hamburg. Buffalo Bills wide receiver, Stefon Diggs was filming this advertisement for the bank and the reaction is priceless.
The Buffalo Bills are back at home this weekend to take on the Las Vegas Raiders for the first game at home this season. The Bills Mafia will be in full force as the Bills look to get in to the win column following the loss to the New York Jets.
The Bills, lead by Josh Allen are also getting ready for the new stadium that is under construction across the street from the current Highmark Stadium. The plan is to open the new stadium in time for toe 2026 season.
The big news, aside from the Bills loss, was the injury to Aaron Rodgers. Rodgers will be out for the season and the incident has brought back the discussion of whether or not to make all fields be grass fields and not turf.
Recently, on the Team West Herr Podcast, Brad Gelber and I spoke with Buffalo Bills quarterback, Josh Allen. Allen agrees that the entire league should have grass fields and the plans are already in place for that to happen at the new stadium in Orchard Park, New York.
ALLEN's PLAN FOR THE FUTURE
But further in the discussion, I asked QB 1 what else he would like to see installed at the new stadium. Turns out, Josh grew up swimming and would love to have a lap pool and in the future, would love to continue the tradition of family swimmers.
Kadie's Kalendar - 09/15-09/17
So much is going on this weekend in Western New York, and it's going to be even better with the fall weather! The only question is...what should you pencil yourself in for?
Massive Horse Farm In East Aurora, New York