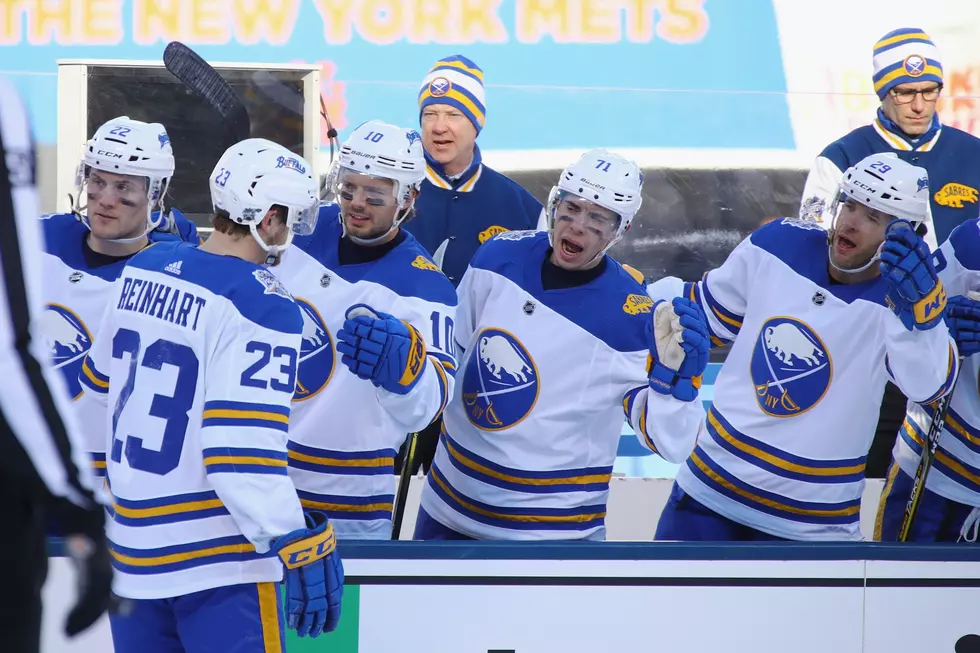 Buffalo Sabres Finally Claim Benchmark Victory
The Buffalo Sabres wore the same white jerseys they wore in the Winter Classic in Thursday's game against the Islanders (Getty Images)
It wasn't easy, but of course for the Buffalo Sabres it never is.  And after five straight losses at home they finally figured out how to win a hockey game and it was the 1,000th home victory in franchise history.
Wearing the white jerseys they wore during the Winter Classic game against the New York Rangers the Sabres got a late third period goal by Sam Reinhart to break a 3-3 tie and the Sabres held on for 4-3 win over the New York Islanders.  But that's after the Sabres had held a 3-0 lead.
The Islanders are the top-scoring team in the league and they showed why by chipping away at the Buffalo lead with a pair of third period goals to tie the game.  Just a 1:13 after the Anders Lee power play goal tied it, Reinhart put Buffalo in front again to stay.
Coach Phil Housley reshuffled his lines again for Thursday's game and it paid off.  He paired Jack Eichel with his old college linemate Evan Rodrigues along with Reinhart and all three of them scored.  It was the 22nd of the season for Eichel, the third for Rodrigues and the 11th for Reinhart.  Reinhart also drew assists on the goals by Eichel and Rodrigues.
Robin Lehner stopped 26 of 29 shots to pick up the victory, just the seventh at home for the Sabres this season.  The Sabres play in Boston on Saturday then they're back home Sunday against Colorado.