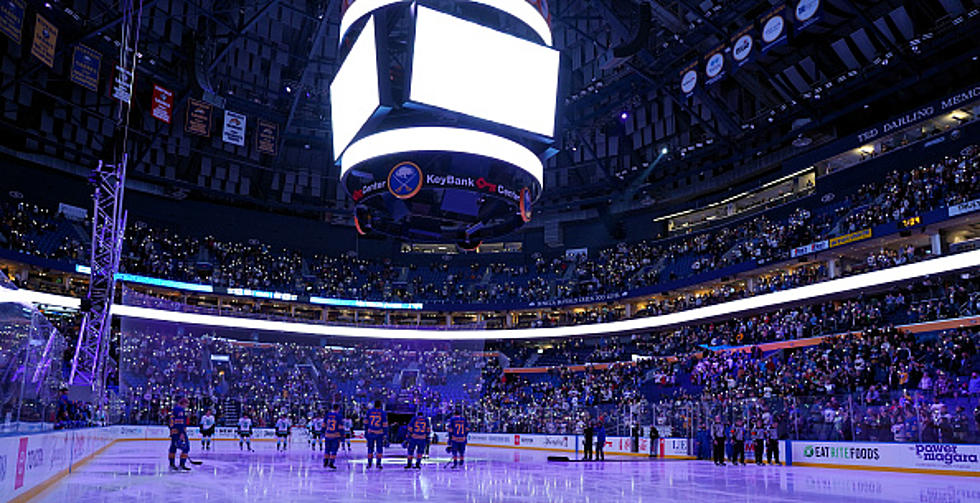 Two Buffalo Sabres Games Postponed
Getty Images
The Buffalo Sabres are currently sixth overall in the NHL's Atlantic Division, and eight points out of a wild card spot as it stands today.
Unfortunately, the NHL is undergoing massive changes in scheduling with positive COVID-19 tests around North America. Multiple teams have had to reschedule games due to COVID-19 protocols, and the Sabres will also have games impacted.
The Sabres have announced that their game tonight (Monday, December 20th) and Thursday, December 23rd against the Columbus Blue Jackets have both been postponed.
The reason is because of the recent COVID cases with the Blue Jackets and the ongoing positive cases going around the NHL. The decision was made by the NHL, NHLPA and both team's medical groups.
The Sabres next scheduled game is against the New York Islanders, next Monday, December 27th.
Information regarding how ticketing will work will be made shortly, according to the Sabres.
The NHL made the decision to postpone cross-border play through at least December 23rd due to the ongoing breakout of cases.
The NHL and NHLPA have agreed to updated protocols, and their handling of the recent COVID cases is different than the NFL.
It's a struggle to see how the NHL gets their season in on a timely basis over the next few weeks as we work our way into winter.
Former Buffalo Sabres Player Sells Million-Dollar Clarence Home
One of the key players on the Buffalo Sabres 1999 playoff run, Richard Smehlik, is
selling
his Clarence home.
$2 Million Lakefront WNY Home Looks Like a Movie Set Inside
This amazing
$2 million home
in Clarence has marble and glass interior with a Hollywood movie like atmosphere.
Incredible $1.5 Million Home In Clarence Has Own Pool and Lake
$9 Million New York State Mansion Leaving People Speechless
This New York State mansion looks like it belongs in a movie.