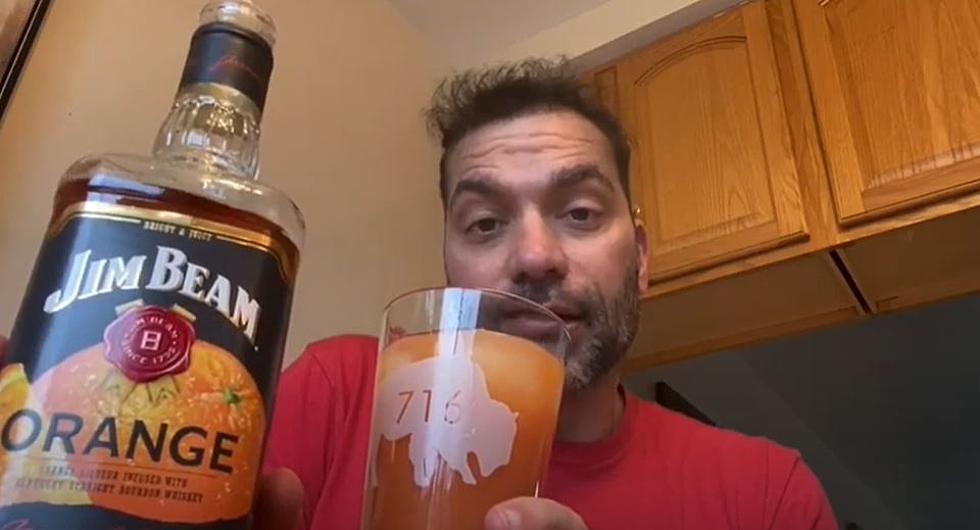 Buffalo Sunsets Are Better With Some Help From A Kentucky Drink
Photo Credit: Dave Fields/TSM2021
Now that we are seeing sunsets in Western New York happen later and later this is the perfect time to grab a drink, sit on the back porch, and enjoy the amazing view that Mother Nature provides us.
This week for my drink of the week, I will show you how to make a Kentucky Sunset using Jim Beam borubon.
Plus right now you can get Jim Beam flavor bourbons for only $16.99 for a one-liter bottle at Best Value Wine and Liquor in West Seneca. The flavors include Apple, Vanilla, Peach, Honey, and Fire which is a cinnamon flavor.
To make a Kentucky Sunset, you start with a glass full of ice. Then you fill it halfway with Jim Beam Orange flavored bourbon. Add 2 oz of grenadine and top off with some orange juice. Mix it all together and you have a glass that looks like an amazing sunset and tastes great while you watch a real sunset in Western New York.
Get your bottle of Jim Beam's Orange Boruvon for only $16.99 at Best Value Wine And Liquor in the Wegman's Plaza in West Seneca.
Check out the video to see how to make the perfect Kentucky Sunset.
Check out some other amazing Drinks you can make this weekend.
The 12th Man Drink
The Bishop Drink
The Boo-Berry Scream Drink
Cranberry Sangria
A Purple Zydeco
Rain
An Adult Arnold Palmer
Irish Buck
Red Whiskey and Wine Drink
The Firecracker 
A Tipsy Rudolph
Top 10 Places In Buffalo For Magaritas