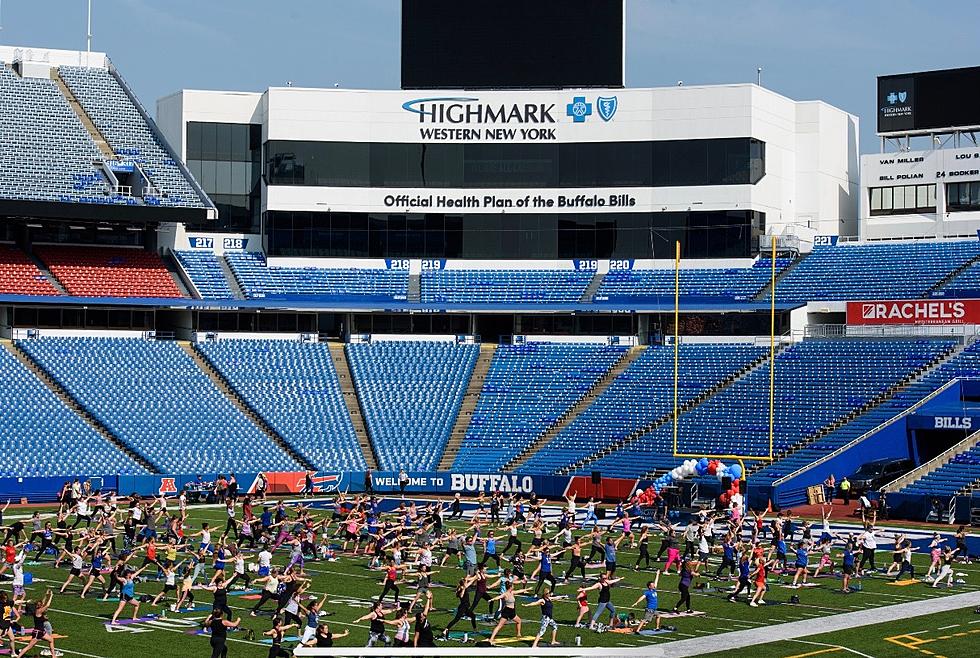 Major Fitness Event Happening on Highmark Field This Saturday
Courtesy BCBS
It's always a cool experience to be able to be down on the turf at Highmark Stadium and your opportunity is coming up this weekend with the annual Fitness on the Field event on Saturday, September 9, 2023.
The third annual Fitness on the Field by Highmark Blue Cross Blue Shield returns featuring a full day of fitness classes, special guest Caralyn Mirand Koch and a new KidsZone. All of the donations go to 8 different charities in the Western New York area.
Fitness on the Field
Highmark Stadium
1 Bills Dr, Orchard Park, NY 14127
Saturday, September 9, 2023
8 AM - 2:30 PM
Last year, the event completely sold out! 
Do you need to register?
Yes!
A $10 donation, collected upon registration, covers all fitness and spin classes, as well as the speaking event. Register here!
Is parking FREE?
Yes, parking is free!
If you want to take the shuttle, where does it pick you up and drop you off?
To make the event more accessible, a free shuttle service will be provided from Johnnie B. Wiley Sports Pavilion to Highmark Stadium from 7:00 a.m. - 3:30 p.m.
The event's full line-up includes:
8:00 a.m. – 8:45 a.m. Yoga with Heal BFLO and Spinning with Rebel Ride
9:00 a.m. – 9:45 a.m. Shannon Connors Fitness and Spinning with Revolution
10: 00 a.m. – 10:45 a.m. Body of Wealth and Spinning with Rise Fitness
11:00 a.m. – 11:30 a.m. Caralyn Mirand Koch Speaking Engagement with Maddy Glab
11:45 a.m. – 12:30 p.m. Rise Fitness and Spinning Rebel Ride
12:45 p.m. – 1:30 p.m. Next Level Bootcamp and Spinning withRise Fitness
1:45 p.m. – 2:30 p.m. Zumba and Spinning with Revolution
The donations will go to local organizations including Special Olympics of New York, SPCA Serving Erie County, Mental Health Advocates of WNY, P.U.N.T., Make-A-Wish, Patricia Allen Fund, Project W.I.T.T. and Person Centered Services
Deicing Highmark Stadium In Buffalo, NY